pop; 1000 summer 800 (winter) The smallest incorporated city in Canada has just celebrated it's 100th birthday. Was a huge mining town back in the 1800's. Submitted by: Sarah Spalek
Greenwood BC: incorporates more than 25 former mines, including most notably Phoenix, Mother Lode, Oro Denoro, Eholt, Big Copper, & Greyhound. First minerals were discovered in Greenwood in 1884 and copper and gold have been mined since the turn of the 19th century. The Greenwood Mining "camp" id s 400 sq. kilometer area. Greenwood "camp" is bounded by the town Midway (named as it is the midpoint of the province of BC) on the West; and the town of Grand Forks on the East; Southerly bounded by the USA-Canada border. More information regarding the mining claims of this area: http://www.em.gov.bc.ca/Mining/Geolsurv
/Minfile/MAPAREAS/GREENWD.HTM Greenwood has a few gas stations, coffee shops, small motels and a museum. There is also a designated tour path around the old Phoenix mine site you may want to follow. Most roads in the area are good hard packed gravel access roads and can be driven by a 2WD vehicle.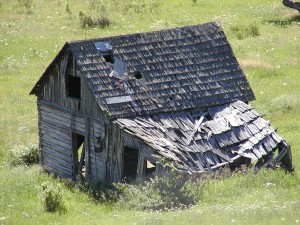 West of Greenwood, field of old cabins from a settlement
Courtesy Kataz Digital Photography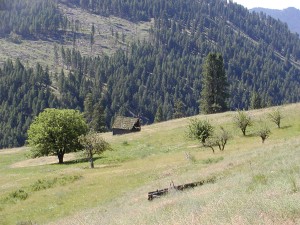 West of Greenwood, field of old cabins from a settlement
Courtesy Kataz Digital Photography

West of Greenwood, field of old cabins from a settlement
Courtesy Kataz Digital Photography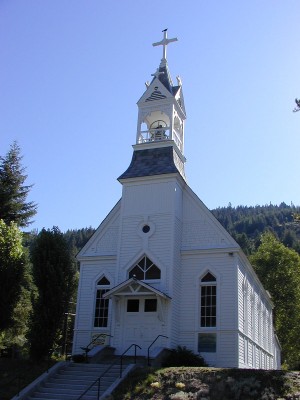 Greenwood Church
Courtesy Kataz Digital Photography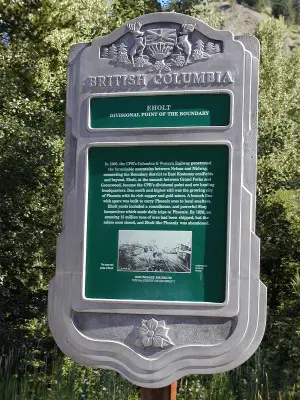 Eholt Plaque
Courtesy Kataz Digital Photography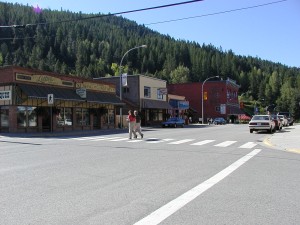 Greenwood Main Street
Courtesy Kataz Digital Photography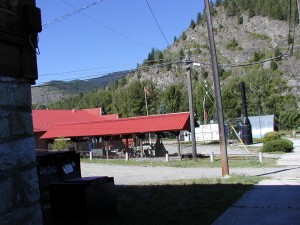 Greenwood Main Street
Courtesy Kataz Digital Photography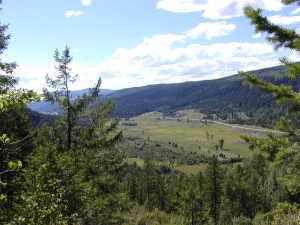 Main Highway Looking down west onto HWY 3 from Old Kettle Valley Railway Spur
Courtesy Kataz Digital Photography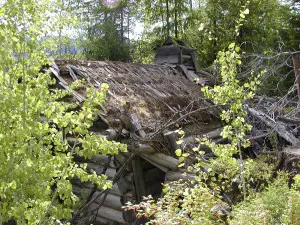 City of Paris Mine settlement old church building
Courtesy Kataz Digital Photography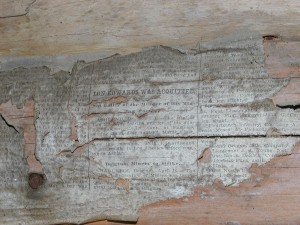 Newspaper still lining the inner church walls - legible
Courtesy Kataz Digital Photography