December 1999
My friend, Larry, and I had driven this very same road earlier, when the sun played over the rock-strewn dirt. Now, in the dark,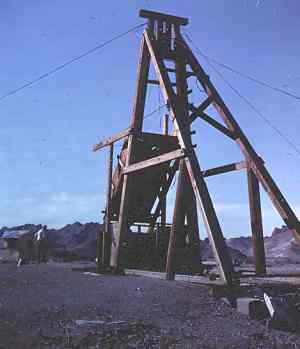 we were rolling along in our home-built dune buggy scanning the widening wash cluttered with smoke-trees and other confusing vegetation, keeping our eyes searching for the side wash that would take us into the "Silver District" and the Red Cloud mine. The year is 1963. The state is Arizona. We were a long way from our primitive camp near Martinez Lake, on the Colorado River.
At last the dune buggy's headlights lit the side canyon we wanted, and with a distinctive roar, from the rear-mounted Volkswagon engine we bounced over the ruts and rocks and into the final
low canyon that would carry us past ghostly piles of rubble left over from long-vanished mines. Names like the Black Rock, the Pacific, the Red Cloud, and beyond that, for another day, the Clip mine.
The road now opened out into the large area occupied by the Red Cloud buildings, and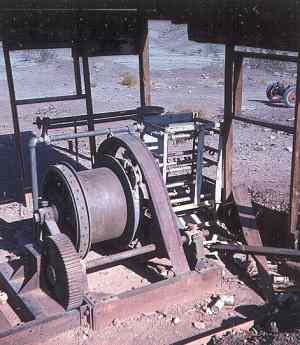 scattered equipment used at one time, now tossed aside. A flotation mill, used to float off the lesser minerals and collect the heavier silver values deeper within it. A vibratory table to separated the fine crushed ore from it's companion minerals. Even a very large air compressor was still in place, though damaged beyond repair by powerfull bullets. In this year of 1963, much remained of the wooden buildings housing an office, assay lab, the hoist's electric motor, controller, and drum of wire rope disappearing down into the open mine shaft. Silver chlorides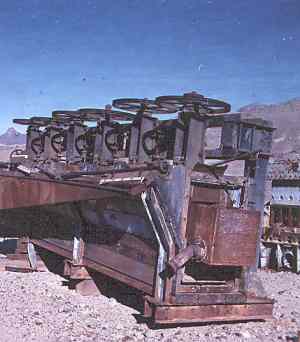 were the dominant ore, though the Red Cloud ran into some pure silver at the 150' level. Various methods of recovering the silver from the ore in the early days was grinding the ore to powder, mixing it with hot salt brine and mercury to amalgamate it, finally roasting the mercury from the silver. A newer method tried in Europe, treated the powdered ore with cyanide.
But tonight we were not going to be mining, I had brought my ancient short-wave
ultraviolet light with me. Without the "black light:", it was impossible to pick fluorescent calcite from the non-fluorescent calcite. When the short wave "black light" struck the calcite, it caused the mineral to glow a very bright red. We were not the only mineral collectors here tonight. A man and his young son were carefully prying the beautiful orange tabular crystals of wulfenite from the same dirt embankment we used.
After oohing and aahing at the crystals of wulfenite, we gathered our small canvas bags of fluorescent calcite, took a final look around at the star-lit surroundings, belted ourselves into our dune buggy and started the long, but pleasant, ride back to our primitive camp near Martinez Lake. I hope you enjoyed the trip. -- Jerome W. Anderson