LONE PINE (CA) BRANCH OF THE SOUTHERN PACIFIC RAILROAD UPDATE(2)
On Sunday, January 3, 1999, I drove south on US395 between Big Pine, CA
and Ridgecrest, CA. Time restraints limited me to driver's seat
observations along the railroad branch, but I did get to see some changes
since my last drive along this same stretch, two weeks previously.
At the northernmost end, ties and rails were still laying strewn
alongside the grade. South, at the former Highway 395 crossing north of
Cartago, I spotted a tie removal truck working about 150 yards south of
the rail crossing.
A couple of miles south, I spotted a white truck parked on the railroad
grade, a short distance south and immediately west of Olancha, I spotted
what appeared to be equipment picking up rail.
A few miles further south, the former rail crossing of US395 was void of
all rail and ties, the grade smoothed out. A short distance south, at
Sage Flat Road, the tie yard showed evidence of growing. A tie picker
truck was parked, as well as a couple of private vehicles.
South of Merritt Cut and the remaining mileage back to Pearsonville,
rails and ties are still in place, untouched since last inspection.
[to be continued]
___________________
David A. Wright
Great Basin Research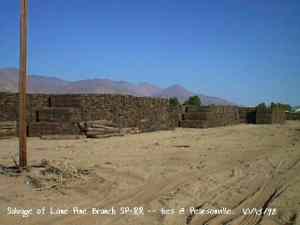 Tie yard at Pearsonville. October 15, 1998.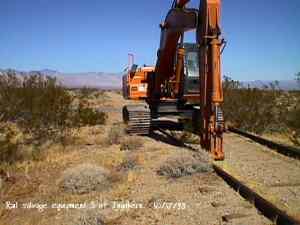 Removal equipment S of Inyokern, Oct. 17, 1998.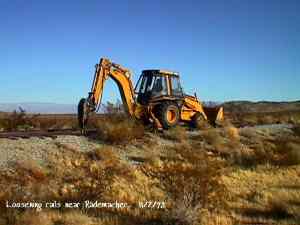 Backhoe w/jackhammer attachment loosening rails. December 2, 1998.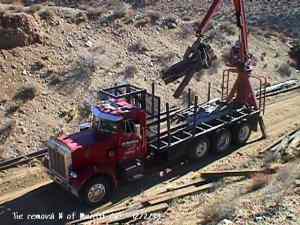 Removing ties near Olancha. December 2, 1998.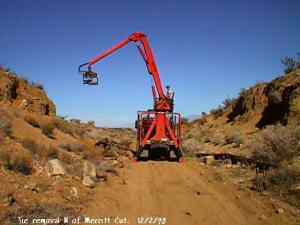 Removing ties near Olancha. December 2, 1998.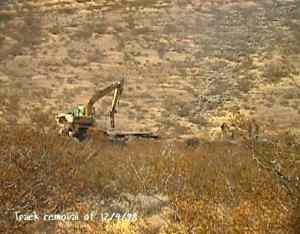 Removing rails S of Inyokern. December 4, 1998.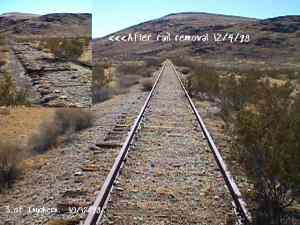 Before and after shots, October 17, 1998 and December 4, 1998 from same place S of Inyokern.