Probably best known as having come from Amador City is Leland Stanford, founder of Stanford University in Palo Alto, California. Stanford came from Sacramento where he was mildly successful as a businessman. After arriving in Amador City, he bought into and became a partner in the Lincoln Mine. Nothing but problems ensued and Stanford was ready to sell his interest for a few thousand dollars. Shortly thereafter the mine became hugely successful and made Stanford a very wealthy man. He subsequently became a U.S. Senator and Governor of California and founded the University, which bears his name. There are two other sites of historical note. One is referred to as "The "Ministers Claim" as it was owned and operated by a number of clergymen. It produced close to $4 million. The other is the Keystone Mine, which produced about $25 million. Amador City is close to Sutter Creek in northern California on highway 49 south of Placerville. Ghosttowns.com
Amador City, located on Amador creek, 3 miles north of Sutter Creek, had it's beginnings in 1848, but the placers were never very rich & like Sutter Creek, the history of Amador City has been connected chiefly with quartz mining. The 1st quartz discovery in Amador County, was made here in February 1851, by a Mr. Davidson, who was a Baptist preacher. Three other ministers were associated with him, and their mine was called the "Minister's Claim". Later, the vein was discovered on the north side of the creek, and it became known as "The Original Amador Mine". The Keystone mine at Amador, was a result of a consolidation of the "Original Amador", with the "Spring Hill", "Granite Station", & "Walnut Hill" mines in 1857. But the huge enterprise did not become a sucess until discovery of the "Bonanza", in 1869, when the 1st months's crushing paid $40,000. This high production continued until well into the 1880's. The Keystone has been closed down since early in this century, but there are those that still believe that millions of dollars in gold lie hidden within the earth thereabouts, and Amador City may yet renew it's old time activities. A beautiful brick building, the office & residence of former superintendants, still stand in good repair, and is used as a distinctive motel with period furnishings. Submitted by Bob Stelow.
A few miles north of Sutter Creek is Amador City, home of the famous Keystone Mine of 1853 whose works still stand on the south side of town. Most of buildings still standing were built after the fire of 1878. A few of the original buildings still stand including the Amador Hotel and the Keystone Mine headquarters of 1867, now an inn. Submitted by Henry Chenoweth.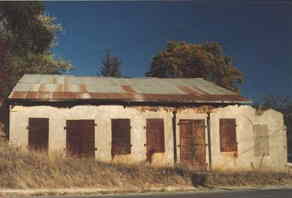 Amador
Courtesy Dolores Steele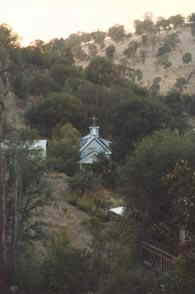 Small church way up the hill
Courtesy Dolores Steele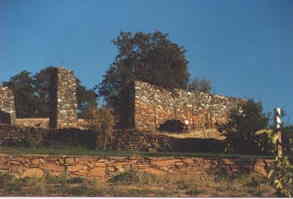 Amador
Courtesy Dolores Steele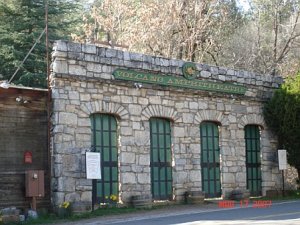 Volcano Ampitheater
Courtesy Anthony Gaudino

Amador City General Store
Courtesy Courtesy Anthony Gaudino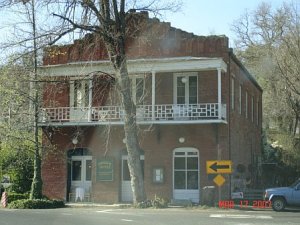 Old Imperial Hotel
Courtesy Courtesy Anthony Gaudino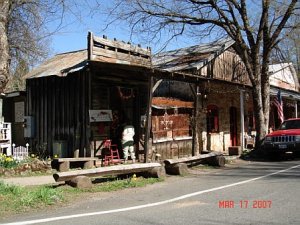 Old Town of Volcano
Courtesy Anthony Gaudino