Chambless is south of Interstate 40 on the historic Route 66 in a section now (2015) generally inaccessible due to flash floods that took out many Route 66 bridges. Chambless is ten miles east of Amboy, California and 3 miles north of the railroad junction of the BNSF and Arizona & California Railroad at Cadiz.
James Albert Chambless established a homestead near the National Trails Road and Cadiz Road in the early 1920's. A store was built on this property in the late 1920's, after the National Trails Road was dubbed Route 66. In 1932, a gas station, motel, and store were added to the town, a post office followed in 1939. Cabins and a cafe were added as well.
Most of the buildings that housed these businesses are still mostly intact today and fenced to prevent further vandalism Roadrunner's Retreat located roughly a mile and half west, 1950's era sign still stands proudly above the crumbling ruins of the old restaurant.
In 1990, Gus Lizalde, purchased the town of Chambless with the intention of restoring it to its former glory days. Gus was able to reopen the gas station for a short period in the early 90's, only to be forced to close due to California's underground fuel-storage regulations.
By 2005, the population of Chambless was 6 residents and one dog, give or take. There is a Clamper's historical marker just east of the town that explains the history of the time.
Nearby Cadiz Summit had an auto repair shop, gas station, a few cabins and a cafe. The most valuable thing available there was water for automobile radiators. Today the liberally tagged walls and some cement pads are all that remain.
Cadiz, Inc., a water-resource-management company, owns more than 35,000 acres around Cadiz over a large aquifer and is located approximately 30 miles (48 km) north of the Colorado River Aqueduct The firm has big plans to exploit this resource, should their scheme be approved.

Submitted by: Bill Cook


Cadiz
Courtesy Bill Cook

Cadiz
Courtesy Bill Cook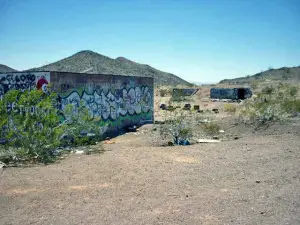 Cadiz
Courtesy Bill Cook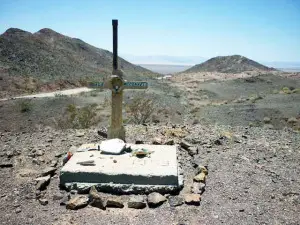 Cadiz
Courtesy Bill Cook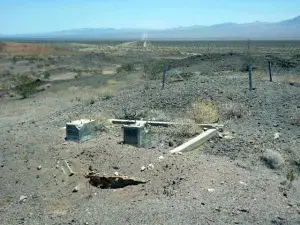 Cadiz
Courtesy Bill Cook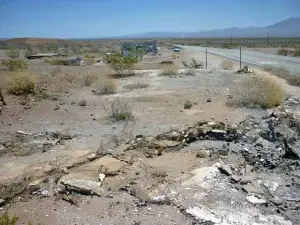 Cadiz
Courtesy Bill Cook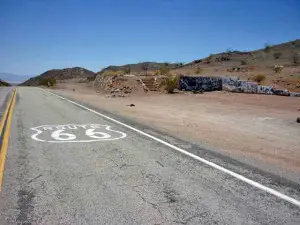 Cadiz
Courtesy Bill Cook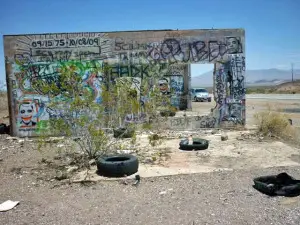 Cadiz Summit
Courtesy Bill Cook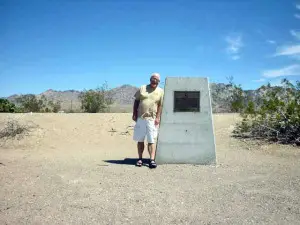 Chamberless
Courtesy Bill Cook

Chamberless
Courtesy Bill Cook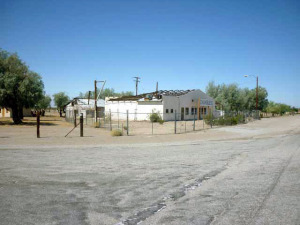 Chamberless
Courtesy Bill Cook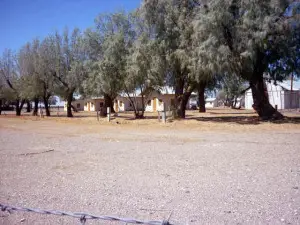 Chamberless
Courtesy Bill Cook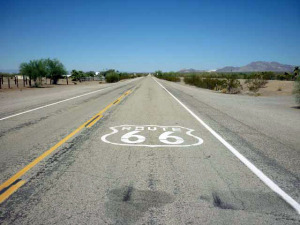 Chamberless
Courtesy Bill Cook

Chamberless
Courtesy Bill Cook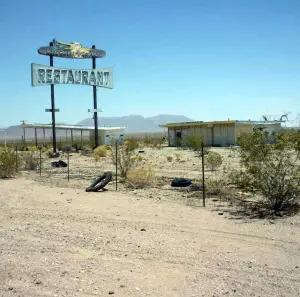 Chamberless
Courtesy Bill Cook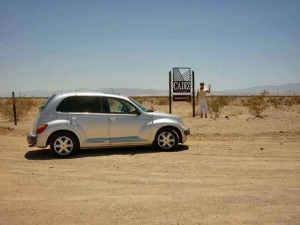 Chamberless
Courtesy Bill Cook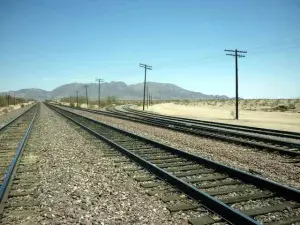 Chamberless
Courtesy Bill Cook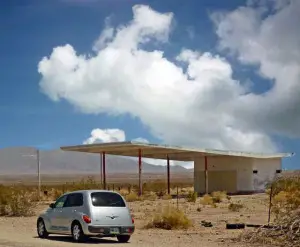 Chamberless
Courtesy Bill Cook