Drytown is an old ghost. Within a year after the 1849 strike in Coloma, Drytown was born. Lack of water always made placer mining difficult in Drytown. Drytown was ravaged by fire many times. After the gold ran out, most people left. I think it was around 1860. My family has always told me that it was fire and the lack of gold that made the town obsolete. Most went to Jackson to work in the deep mines. I can get better details if needed. Please respond if you would like further information.
Submitted by: Bill LeMoine Steacy
Founded in 1848, Drytown includes a few buildings dating from the 1850s including a brick building thought to have been the mine office of George Hearst, the father of William Randolph Hearst. The Le Moine House of 1857, a brick and board home is located on a side street. A plastered adobe home, said to be the oldest dwelling in Amador County, is located in a shaded garden on Old Plymouth Road. Submitted by Henry Chenoweth.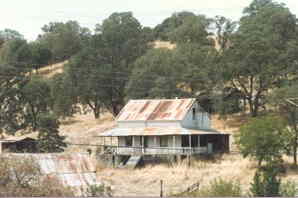 House
Courtesy Dolores Steele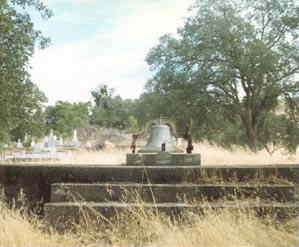 Drytown Cemetery
Courtesy Dolores Steele

Drytown Cemetery
Courtesy Dolores Steele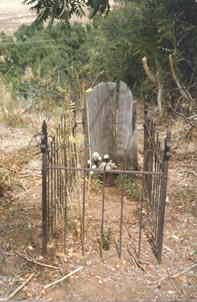 Drytown Cemetery
Courtesy Dolores Steele

Old Brick Store -- William Randolph Hearst's father operated printing
press and mine office here ---- George Mc Mannus, cartoonist, creastor of
Maggie & Jiggs, also had office here.
Courtesy Dolores Steele

Butcher Shop -- marble for its floors was cut from quarry in Fiddletown
-- marble counters and butcher block were carried around the horn from Italy.
Courtesy Dolores Steele

Long ago this was the entertainment center and meeting hall for the community.
Courtesy Dolores Steele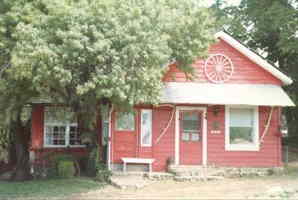 Over 100 years old -- front part of the house was orginally a cobbler's shop.
Courtesy Dolores Steele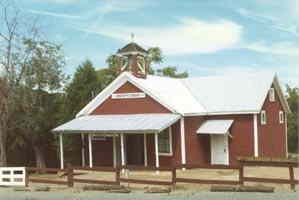 Old School believed to be one of the first in Amador County.
Courtesy Dolores Steele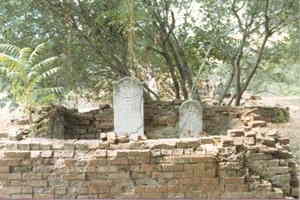 Drytown
Courtesy Dolores Steele