Gold was discovered in Leadfield around 1904 and the town's big boom was in 1926-27. An auto road was built to the town and businesses sprang up from nothing in months. Then, a man named Charles Julian entered the picture. Julian sold stock in the mine and was very successful at it. It seemed, though, that he jumped the gun and had not obtained a permit for selling the stock. Despite having sold 300,000 shares, and the town having 93 blocks, by 1927 it was all gone. The gold has run out and Julian fled eventually to Shanghai where he died at the age of 40. Today there are only a few ruins left at Leadfield, and its greatest legacy seems to be the Titus canyon road, built at a cost of $60,000 at the time.
Leadfield, California: Russ Leadabrand wrote an article for the Desert Magazine, January 1957, Boom And Bust At Leadfield
Page 11, only one photo and a map. Its a short article, but the photo is worth a visit if nothing else.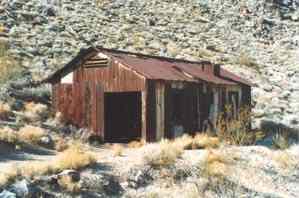 Leadfield
Courtesy Dolores Steele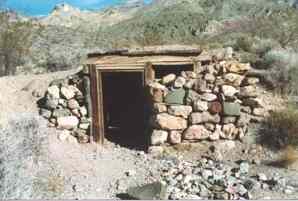 Leadfield
Courtesy Dolores Steele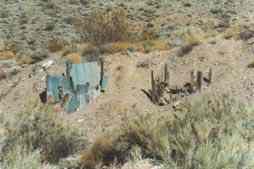 Leadfield
Courtesy Dolores Steele

Leadfield
Courtesy Dolores Steele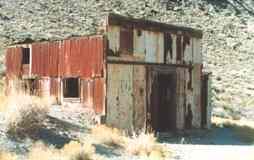 Leadfield
Courtesy Dolores Steele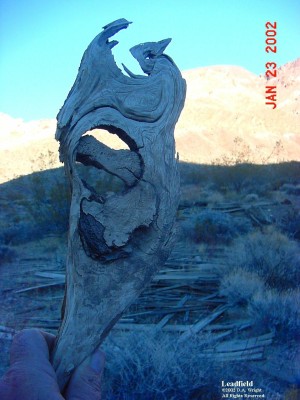 Leadfield. D.A. Wright photo

Leadfield. D.A. Wright photo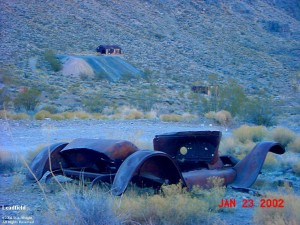 Leadfield. D.A. Wright photo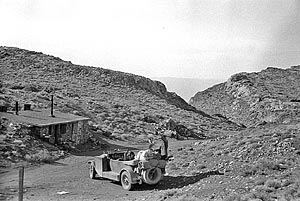 Leadfield/Chloride
From the Johnnie Walker Collection
Courtesy Charlie Osborn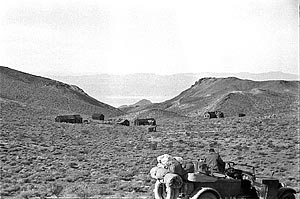 Leadfield/Chloride
From the Johnnie Walker Collection
Courtesy Charlie Osborn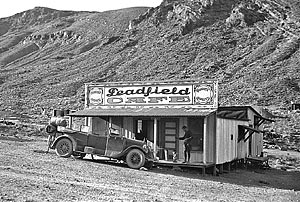 Leadfield/Chloride
From the Johnnie Walker Collection
Courtesy Charlie Osborn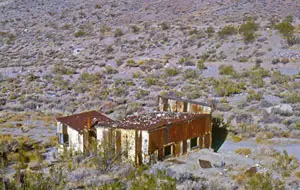 Leadfield
Courtesy Bill Cook

Leadfield Building
Courtesy Bill Cook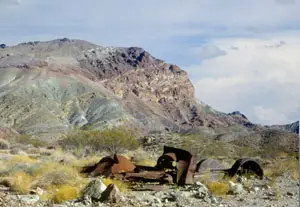 Dead Leadfield
Courtesy Bill Cook

Rock Dwelling
Courtesy Bill Cook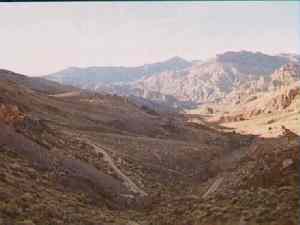 View westward from spectacular Red Pass and the road that C.C. Julian carved out from this wonderful topography to work out his swindle town of Leadfield. January 1997.
Courtesy David A. Wright
Great Basin Research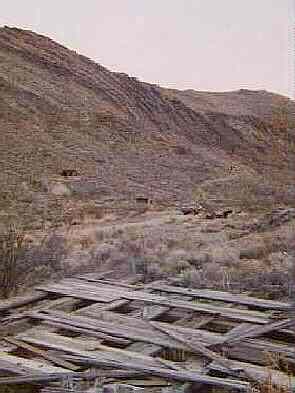 Collapsed remains at east side of townsite. January 1997.
Courtesy David A. Wright
Great Basin Research

Leadfield townsite and historic marker. January 1997.
Courtesy David A. Wright
Great Basin Research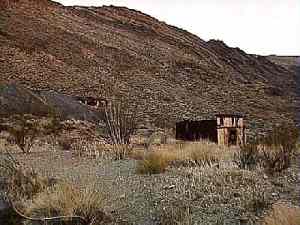 Leadfield townsite. January 1997.
Courtesy David A. Wright
Great Basin Research


Remains of what appears to have been a shop / warehouse situated next to large mine portal. January 1997.
Courtesy David A. Wright
Great Basin Research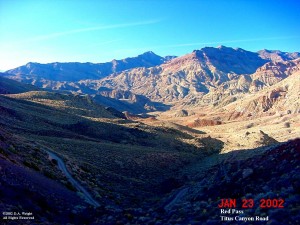 Leadfield. D.A. Wright photo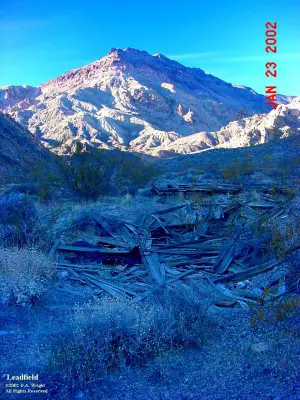 Leadfield. D.A. Wright photo

Leadfield. D.A. Wright photo

Leadfield/Chloride
From the Johnnie Walker Collection
Courtesy Charlie Osborn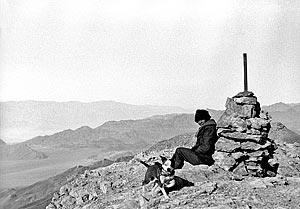 Leadfield/Chloride
From the Johnnie Walker Collection
Courtesy Charlie Osborn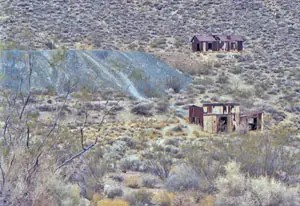 Tailings
Courtesy Bill Cook

Leadfield looking through windows
Courtesy Bill Cook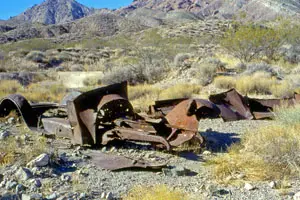 Leadfield
Courtesy Bill Cook