"This site rrecieved its name because in 1893 "Dutch Frank" Diebold, Ed Holland, and Alfred G. Tingman were camped in the area and had their horses stolen. The horses were found the next day at the camp of the ruthless McHaney gang, by Diebold. These armed bandits told Diebold, "You did not lose any horses." However, Diebold once again tried to describe them when he was cut short by McHaney, this time in a more ominous tone:"Remember, you didn't lose no horses." Diebold replied, "No, I guess I didn't" He then, while walking back to camp, discovered a rich gold vein. He sold his claim, the Lost Horse, to salonkeeper near Twentynine Palms Oasis Johnny Lang, for $1000. Eventually Jep Ryan, from Banning, bought out Holland and Tingman. Ryan suspected his new partner, Lang, of mischeif when he came to notice a bizzare patern in his operations:the size of the amalgam ball from his day-shift operations was consistently larger than Lang's night-shift efforts. Subsequently, Ryan had a man watch Lang, who indeed was highgrading his own mine. Lang, confronted with the evidence, was forced to selll out for $12,000. Lang, however continued small prospecting and lived out in the hills. In January 1925 a note was found attached to his shack saying, "Gone for grub." Several months later, his nearly mummified remains were found;close by were a square inch of bacon and atrace of flour. Johhny Lang, age 73, was wrapped in canvas and buried at the site of his death." (Info. aqquired from Southern California's Best Ghost Towns by Phillip Varney) Submitted by: Nicholas Walrath
To Whom It May Concern, This concerns the Lost Horse Mine at Joshua Tree National Park, Twenty Nine Palms, California.
The author of the article incorrectly stated that " Dutch Frank" Diebold, Ed Holland, and Alfred G. Tingman were camped in the area of the Lost Horse Mine and lost their horses. This is incorrect. It was in fast Johny Lang that lost his horse and went in search of the lost animal. He stopped by the McHaney encampment near Keys' Desert Queen Ranch and discovered that his horse had been "confiscated" by the McHaney's.
The part where Diebold comes in is where the McHaney's directed Lang to his camp. This is where Diebold told Lang that he had discovered a large gold strike. He had not been able to claim it because of interference from the McHaneys. Lang purchased the claim from Diebold for $1,000. Lang took on partners with enough clout to take on the McHaneys. Lang's partners eventually sold their shares to the Ryan Brothers.
Also, after Johnny Lang had been discovered skimming some amalgam from the night shift that he was supervising. He was given the option of selling his share or going to jail. He sold for $12,000.
It looks like the information that was published was obtained from a publication entitled: "Southern California's Best Ghost Towns", by Phillip Varney. The information was not correct.
I have been a frequent visitor to Joshua Tree National Park for more that two (2) decades and have become very familiar with the legends, myths and stories that have become Joshua Tree National Park.
Thank you, Chris Vallely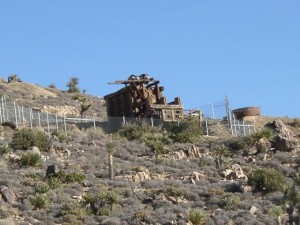 Lost Horse Mine Courtesy Karl Kasarda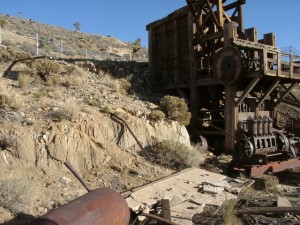 Lost Horse Mine Courtesy Karl Kasarda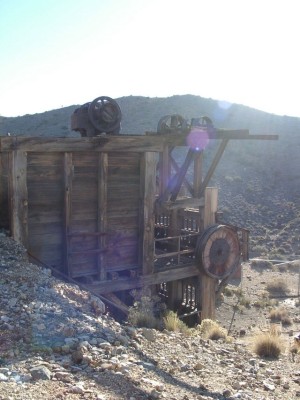 Lost Horse Mine Courtesy Karl Kasarda