Reilly is located on the western edge of Panamint Valley. Originally, the Wibbetts Brothers discovered silver ore near the site in 1875, and 7 years later, the claims were sold to a group of easterners, including Edward Reilly. The Argus Range Silver Mining Company was formed with $200,000 in stock, and Reilly had carpenters constructing the town site, as well as a 10-stamp mill on one of five claims known as the Bonanza King Quartz Mine and Mill. The operation under the Argus Range S. M. Co. spanned from 1882 until 1884, and in the 1883 Report of the Director of the Mint, Reilly was listed among the 17 most important towns in Inyo County.
Although most only foundations represent the once bustling camp, the impressive masonry walls of the stamp mill, the house of Edward Reilly, and the structure believed to have served as the post office, have endured the harsh environment of Panamint Valley. Other visible features at the site are a dugout carved into the steep embankment of a wash, the graded area of the original stables, numerous boulder foundations believed to have served to support canvas structures, and additional freestanding masonry structures, including the house believed to have been occupied by the superintendent of the operations. Also present is an arrastre that archaeologists believe was constructed sometime after the turn of the century during a later episode of the siteís occupation.
The post office operated from January to October of 1883, closing just about he time the mill was beginning to produce. The original occupation ended in 1884, but the site has been intermittently inhabited sporadically during the years. It has been said that during the late 1880s, the mill was used to reduce ore from George Hearstís New York Mine, though this has yet to be substantiated.
Submitted by: K. Ross Way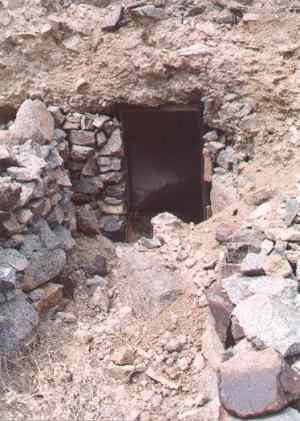 Reilly
Courtesy K. Ross Way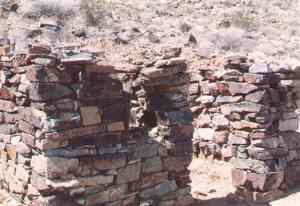 Reilly
Courtesy K. Ross Way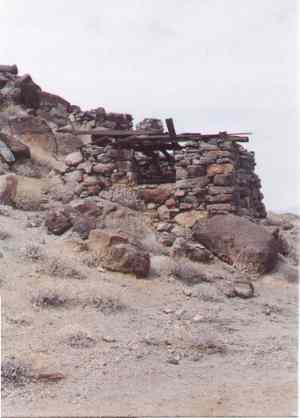 Reilly
Courtesy K. Ross Way