History of gold mining through the thirty's. History dates back to 1864.Submitted by: Ace C. Young
San Andreas was founded in 1849, by mexican miners who 1st discovered gold in the rich gravels. American miners crowded them out in 1850, then thousands of Chinese moved in and reworked the tailings considered useless by others. San Andreas is probably noted most for being the place where the infamous "Gentleman Bandit", Black Bart was tried, and sentenced to 6 years at San Quentin for a series of stagecoach robberies. Bart was actually Charles E. Boles from Illinois, but after a number of very successful robberies, he changed his name to Charles Bolton, and moved to San Francisco. During a holdup near Copperopolis, Bart was wounded and dropped a handkerchief with a laundry mark "FX07". The handkerchief was traced to San Francisco, where police made one of the most surprising arrests in its history, for Charles Bolton was one of San Franciso's leading citizens, and had close connections in the police department. New highway alignments, and other demands of modern civilization, have stripped San Andreas of most of its mining camp character, leaving only a few of the original gold rush era buildings. The remaining examples of early architecture include the dressed-stone Fricot building, now housing the county library; a two-story I.O.O.F. Hall; and the courthouse, which is now home to the Chamber of Commerce, and a museum with a good collection of local historical items. Behind the courthouse is the old jail with a cell marked "Black Bart slept here". Just west of town is the historic Pioneer Cemetery, dating back at least to 1851. Most of the graves are unmarked, but a few headstones have some intriguing in-scriptions. Many of the graves here were moved from Lancha Plana, Camanche, and Poverty Bar, when Camanche Lake inundated those towns. Submitted by Bob Stelow.
Founded in 1848 by Mexican prospectors, it was one of the earliest to suffer from the racial clashes that rocked the Mother Lode. When the riches of San Andreas became known, American miners poured in and drove out many of the Mexicans. It is here so the story goes that Joaquin Murieta got his start and became one of the most famous Mexican bandits of his time. Swearing vengeance for the hanging of his brother for a crime he did not commit, Joaquin formed a band of cutthroats and preyed on American settlements up and down the Mother Lode. A good starting point for an historical tour is the local museum. Submitted by Henry Chenoweth.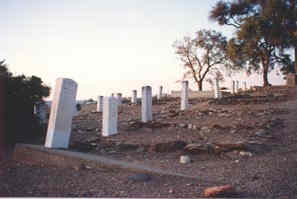 San Andreas Cemetery
Courtesy Dolores Steele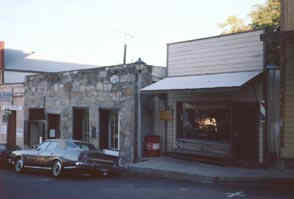 Library
Courtesy Dolores Steele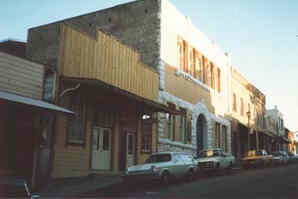 San Andreas
Courtesy Dolores Steele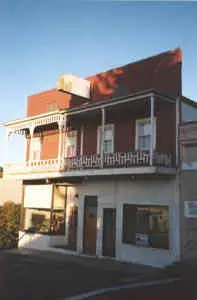 San Andreas
Courtesy Dolores Steele

San Andreas Children's Cemetery
Courtesy Dolores Steele