"Typical of the short lived Ghost Towns of the Colorado Rockies was Douglass
City. The remains of which you see here. Douglass City however was built for
a different purpose -- to house the Italian construction workers who labored
on the Colorado Midland in this area and who helped construct the Hagerman
Tunnel, trrestles etc. ---- This one street "City: had eight saloons, mostly
in tents plus a Dance Hall. Here the Professor played the piano while the
Ladies of the evening, too jaded for Leadville, entertained and took the
laborers money. The wild city was the scene of drinking, shooting, fighting,
knifing and other innocent pleasures."
From the Park Service Sign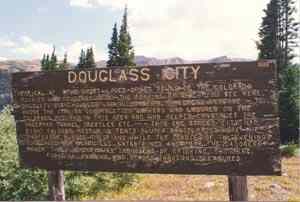 Douglass City
Courtesy Dolores Steele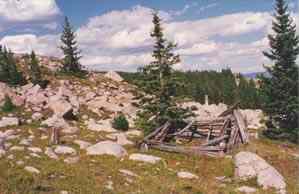 Douglass City
Courtesy Dolores Steele

Douglass City
Courtesy Dolores Steele