Few mining towns had an elevation greater than that of Kokomo's 10,618 feet. Access to the town in 1878 was only by narrow trails carved out of the side of mountains. The summer of 1879 saw Kokomo with a population of 1500. By the year 1881, the town had grown to 10,000. It was in that year a disastrous fire nearly destroyed all of the wooden structures in the town. Rebuilding started immediately and it looked as if the town would regain its former place in the sun. But it did not. Some of the mines declined in production, others closed and the town gradually began to decline. Submitted by Henry Chenoweth.
Racen and Kokomo were next door neighbors, so much so that often is was difficult to know which was which. When most of Kokomo was destroyed by fire in the winter of 1881-82, what remained of Kokomo was merged with Racen. Some placer ore was found here in 1860, but little mining was done until the Leadville boom when several rich strikes were made. It is said the Dead Man claim was located when a miner dug a grave to bury a friend. The town began fading in the 1880s but has never completely died. Kokomo was named after the city in Indiana, birthplace of some of the early settlers. Recen was named for the Recen brothers, prominent in the early history of the area.
Update:
I found in the article by Henry Chenoweth that Kokomo virtually destroyed by fire in 1881. My great grandfather's brother lived there at the time and wrote a letter to his parents in New York. That letter was published in a NY paper, possibly in Binghamton, NY. In the letter dated May 31, 1880 it stated that the fire was actually in 1879. Since the letter was dated prior to 1881 it seems likely to be accurate. I wanted to let Henry know of this but did not figure out how to do it at the site. Perhaps you can help me. A copy of the article quoting his letter is attached. I received the article from a relative in the T. D. Armstrong family tree.
Thomas Dick Armstrong who wrote the letter was born in Little Meadows, PA on 7/10/1855 and died in Gardena, CA on 2/11/1912. His father (my Great-great grandfather) who the letter was addressed to, was born in Binghamton, NY in 1829 and died in Windsor, NY 9/24/1911.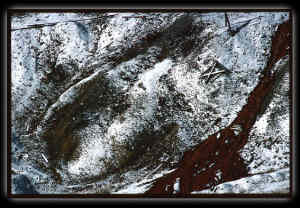 Kokomo
Courtesy Akio Ohki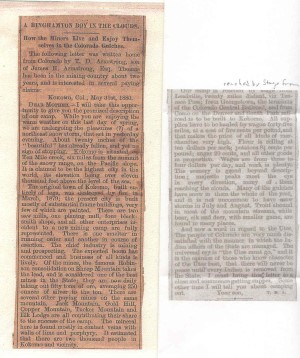 Newspaper Articles on Kokomo - Click to enlarge. Courtesy Terry Nieuwlandt