The area was apparently mainly coal mining and the site of "The Ludlow Massacre". (The massacre is noted only in passing in "Clorado Ghost Towns and Mining Camps" by Sandra Dallas. Submitted by: Harold Frodge
UPDATE: Noticed your Page and thought I might share some Information.
In The Ludlow Description The Author had Cokedale Listed and Across State Highway 12 were some strange foundations.
Those foundations are the COKE OVENS to burn coal for the coking process at the steel mill in Pueeblo.
If you would like to read some history of the area there are a couple of really good books tittled:
Out of the Depths by Baron Beshoar - Deals with the Ludlow Massacre
Death of Spring by Silvio Caputo - Deals with the Trinidad area and the life of his Father.
Mountain to Mill by FRank Villa - Deals mainly with The Colorado and Wyoming Railroad

- Larry Lucas
I recently read a book by Carl Breihan called "Forty Years on the Wild Frontier" (published in 1985) which in part chronicles the events leading up to the "Ludlow Massacre" of April 20th, 1914. So many people were killed by coal company guards that day that bodies of the unfortunate victims were found years later in the surrounding hills. The book describes the events of that day through the written accounts of survivors, and in other chapters describes long-lost towns and settlements in the Walsenburg and Trinidad areas. A good source of info!
Dave Alquist
Mesa, Arizona

Ludlow
Courtesy David Cristiani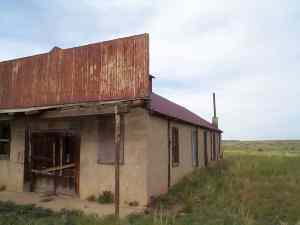 Ludlow
Courtesy David Cristiani

Ludlow
Courtesy David Cristiani