Had 4000 residents in the late 1800's. 6 local residents as of 1998. (Town is pretty much closed except on Saturday and Sundays except during the summer). Locals will answer your questions honestly, but are not long on conversation. A trading post, a fantastic art gallery, a saloon building built in 1880,
Masons Lodge #14, a lot of old mine buildings, the old fire house/city hall is still standing. Several old miners shacks can still be seen. most of theold stone bldgs have long since turned into rubble.DO NOT GO NEAR THE MINE SHAFTS!! The edges tend to cave in that area due to the pulvarized granite sides
and you could end up at the bottom 3 - 500 ft down - DEAD!!! This ghost town is about 1 mile from Central City. Well worth a visit! Beautiful views of the mountains.
As of today there are two residents. We both live in the Bald Mt. Trading Post. We also own the Kramer Saloon. The Masonic Lodge is #4 and was built in 1879. There is a stone marker over the center door showing the date and the symbol.
The City Hall was also the Fire Department and the Jail downstairs. Both Wes and I (Bennett) are happy to give information about Nevadaville and the town, the gold, and the demise. We also teach gold panning here in the richest square mile in the world. It is best to contact us to get tours around the area because the most of the claims are privately owned and protected. There are many sink holes occurring daily. The Glory Hold is deep enough to hold the Sears Tower, in Chicago, and with a little cover up the tower would dissapar. That's how deep just one of the mines is and there are many more just as deep or nearly as deep. But we have the information and will share gladly for tips (thats out income to keep the town alive)(well, other than the Ghosts that stay around here).
Text 720-434-3751 to schedule a private tour and information about the town… or email to this address for the same.
Bennett
SUBMITTED BY: Ron McFarland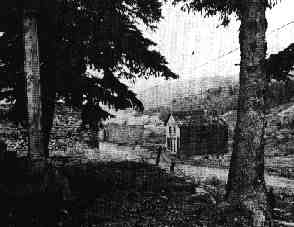 Old City Hall at Nevadaville
Courtesy U.S. Forest Service

Road into Town
Courtesy Dolores Steele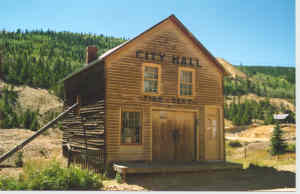 City Hall - Fire Dept.
Courtesy Dolores Steele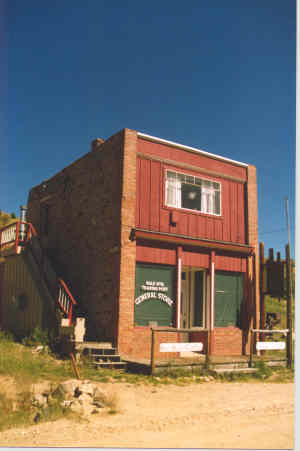 General Store
Courtesy Dolores Steele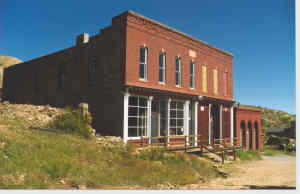 Masonic Block
Courtesy Dolores Steele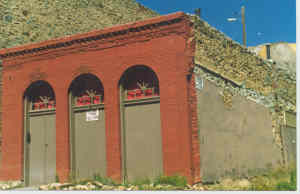 Nevadaville;
Just a comment about the small building on the right of the Masonic block (the one with three arches on the front of the building -- in case you didn't know, it was a one time saloon built by my great great uncles Joseph and John Kraemer in, I believe, the 1890's. I have a copy of a liquor license for the saloon when it was run by one of John's sons, Matt Kraemer. Jean Ehresman
Courtesy Dolores Steele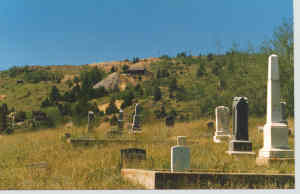 Nevadaville Cemetery
Courtesy Dolores Steele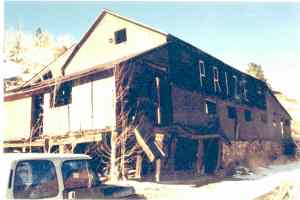 Prize Mine just outside Nevadaville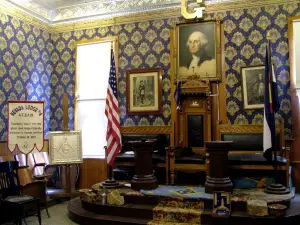 Nevadaville Co Inside Masonic lodge #4 Temple
Courtesy Daniel P Woods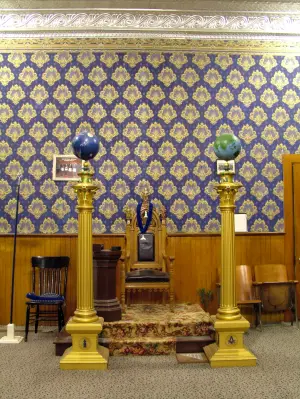 Inside Masonic lodge #4 Temple
Courtesy Daniel P Woods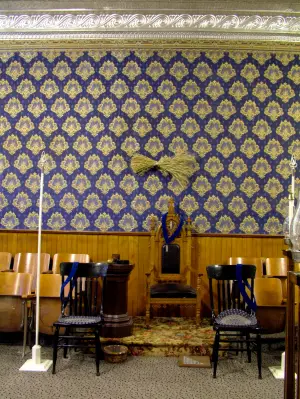 Inside Masonic lodge #4 Temple
Courtesy Daniel P Woods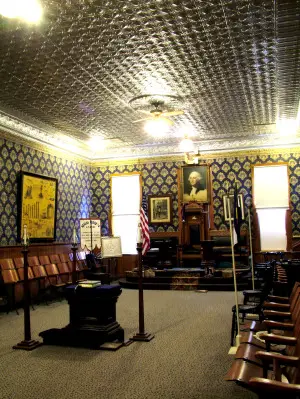 Nevadaville Co Inside Masonic lodge #4 Temple full fram room restored
Courteys Daniel P Woods

Nevadaville Co key stone Masonic lodge #4 Temple
Courtesy Daniel P Woods

Mine Structure
Courtesy Ryan Sullivan-Elkins

Mine Structure
Courtesy Ryan Sullivan-Elkins

Mine Structure
Courtesy Ryan Sullivan-Elkins