The discovery of gold on the Feather River in 1863 touched off a new ruch to what became known as the South Boise Diggings. A toll road was built in 1864 and freight wagons started to roll in from the railhead at Kelton, Utah. From Mountain Home the toll road led to Dixie, Pine Grove, (which is located under the Anderson Ranch Dam waters) Junction Bar, and finally to Rocky Bar.
With the largest mines nearby on Bear Creek, Rocky Bat wuickly became the leading settlement fo rht South Boise miners. In 1864, with a population of nearly twenty-five hundred, it became the county seat of Alturas County. And along with Idaho City, Rocky Bar was a contender for the site of the territorial capital. When Alturas County was created in 1864, the first Territorial Legislature designated Esmeralda as the County seat. But since Esmeralds wasn't much of a village and Rocky Bar was starting to boom, the county officials quietly moved their office up to Rocky Bar. This honor was held by Rocky Bar until 1881, when Hailey won the election and became the seat of Alturas County.
One account states that a twelve stamp mill was hauled by ox team from Omaha to Rocky Bar for thirty cents a pound. In 1892 much of Rocky Bar was wiped out by fire, but the town was soon rebuilt and mining continued. A large Chinese settlement hugged the banks along Steel Creek. There are still a few summer residents in town and on cafe and bar, or Saloon. The old mills have been pretty much torn down. With the death of Charley Sprittles, Rocky Bar's last winter-time resident, the deep snows and wintry winds have this old camp all to themselves.
(Quoted from Southern Idaho Ghost Towns by Wayne Sparling)
Rocky Bar is located about eight niles north of Featherville, at the confluence of Bear and Steel creeks.
Rocky Bar was the first county seat of Alturas and Elmore Counties.
The town was established in December 1863 by H.T.P. Comstock, the namesake of the Comstock Lode in Nevada.
For a brief period- Junt 1, 1889, to June 4, 1892- the newspaper, Elmore Bulletin, was published at Rocky Bar.
On September 1, 1892, the town was mostly destroyed by fire, but was rebuilt by the citizens. Rocky Bar was the setting for a spur-of -the moment decision which may have had repercussions on mining in the region for some time.
It seems that the president of the Alturas Mining Company was an easterner with no mining knowledge. He did however have a knowledge of western shisky, and stopped in Rocky Bar for a few snorts to make the trip to Yuba City easier. The executive managed neither the company mining interests nor whiskey well. For some reason he ordered teams and wagons that were hauling a mill to the Atlanta Lode to stop at nearby Featherville, while lumber meant for buildings at Yuba City was left to rot in keeping with the booze-inspired orders of the mining company's president.
What motivated the man to stop delivery of mill and lumber is anybody's guess. (Quoted from Ghost Towns of Idaho by Donald C. Miller.
There is a story about one of the Mining town residents that goes like this.
"One of Atlanta's "characters" was "Peg Leg Annie," described as a leading lady of the night. Annie and a companion, Emma von Losch, alias "Dutch Em," set out on foot from Atlanta to Rocky Bar. They walked on crusted snow, although it was May, Probably in 1898. A blizzard raged for two days. The women failed to show up in Rocky Bar, and after three days a search party was organized. Annie was found crawling through snow on her hands and knees, incoherent. Dutch Em was found dead, covered by Annie's underclothes.
A number of versions describe what developed next. The most commonly accepted story seems to be that Annie was amply filled with booze and at the proper time both feet were amputated above the ankles.
The plucky annie found a man to live with, bore five children and dies in the 1930's having been "dependent on friends for some years."
For a while Peg Leg Annie lived at Rocky Bar in a cabin which is still standing. Reportedly she sold shiskey to anyone with the money to pay for it. Being incapacitated, however, she lined up whiskey bottles under cover along one side of a building near her cabin. With a shotgun across her knees, she would direct the would-be purchaser to the spot where the booze bottles were hidden. The story goes that she always paid for her liquor - in advance." (also quoted from Ghost towns of Idaho by Donald C. Miller)
Peg Leg Annie's house is still among the structures still standing at Rocky Bar and I saw a photo during my research that has that valley filled with buildings, that was the year before the fire. It is almost tough to believe that there were that many people there at one time. Standing on main street you can almost hear the bustle of the once busy mining city.
Submitted by: Angelia Heeb
Please be advised that most of the following information was gathered by his son George Albert Sprittles "Sloan" upon his visit to Rocky Bar in August 1997 after discovering that year that his father had lived there as he had not known his whereabouts since 1920. Charles Sprittles born Wakefield, England Nov. 25th 1881 and was a coach maker apprentice at age 14 Charley worked the mines in Casper, Wyoming 1916 till ??? 1920 the last time my father saw Charles Sprittles until learning of his past home in Rocky Bar in 1997. Charlie met and married Lulie Deane Wiley in Wyoming and had 3 daughters and 2 step daughters from her previous marriage. Charley left Wyoming and Lulie went to California with the girls. He came to Rocky Bar sometime around 1932. Worked at the Triumpth Mine and the Hailey Mine in Sun Valley and also was also a fight promoter. Charlie store in Rocky Bar was called the "White Front Store" which included one gas pump. Charlie never mentioned having a son only his daughters. Charley walked everywhere had no automobile. He was known as a miner and also known as the "Mayor of Rocky Bar". This is also listed on his death certificate. Charlie's death: In late November or early December 1963 Charley went to Boise to the doctors. He hitched a ride back to Featherville where his companions tried to get him back to Rocky Bar but the snow was too deep and could only get too within 5 miles of Rocky Bar. He told his friends that he wanted to continue on foot on his snow shoes but they didn't want him too. He went on anyway. His Air Force "fly-boy" friends from Mountain Home Air Base used to check on him by flying over during the long winter months. They would also drop him food and supplies. Anyway, they soon dicovered there was no smoke coming from his cabin. Accordingly the sheriff began the search for Charlie. It snowed like crazy that winter. On one search for Charley in March the crew had stopped, with along with there large snowmobile to have lunch. They also built a fire. The following month on April 14, 1964 the search was over. The search crew led by his Deputy sheriff friend, Buster "George" Taylor came across the spot where they had stopped earlier to have lunch, (about 2 1/2 miles east of Rocky Bar) a snowshoe had now protruded from the snow as the snow had now somewhat melted. Charlie was there with his shoes off and a sock in one hand and the orange peels they left the month before scattered right where they had left them during their lunch. Charlie was right beneath them the whole time. His death was listed as heart attack. Charlie had always wanted to be buried above his cabin in Rocky Bar but it wasn't allowed because it was National Forest land. A memorial was erected by the citizens in Rocky Bar: "To Charlie Sprittles Pioneer 1881-1964". He was buried on April 24th 1964 in Mountain View Cemetary in an unmarked grave. Upon learning that there was no grave marker my father purchased a grave stone. It states "Charles Sprittles" Pioneer Rocky Bar 1881-1964.
Submitted by Roy Sloan - Grandson of Charles Sprittles.

Rocky Bar
Courtesy Karalie Ashford

Rocky Bar
Courtesy Karalie Ashford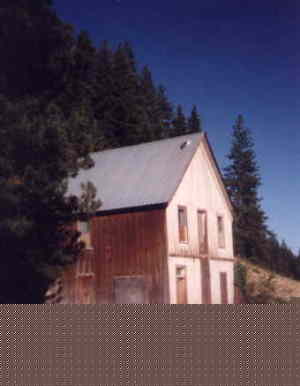 Rocky Bar Whorehouse
Courtesy Karalie Ashford

Rocky Bar
Courtesy Brad Oliver

Rocky Bar
Courtesy Brad Oliver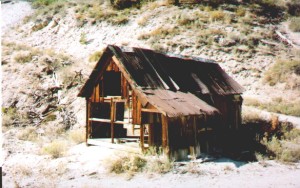 Rocky Bar
Courtesy Brad Oliver

Rocky Bar
Courtesy Brad Oliver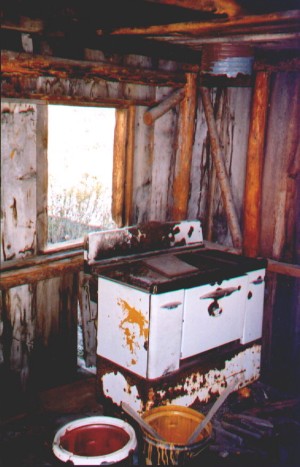 Rocky Bar
Courtesy Brad Oliver