The rich vein of silver was discovered at Pardee just before the turn of the century. Fortunately for the operator, the Iron Mountain Mining Company, the seam of ore ran quite close to the surface before going further underground. Fortunate because it was ten miles by pack train to the nearest railroad station saving hundreds of man-hours in labor. The area was so remote the cost of transporting bulky ore by mule train became so expensive the company constructed a large mill at the bottom of the mountain where the mine was located. From that time on, only the concentrates needed to be hauled instead of the bulky ore. Profits soared. Around 1906, the state of Montana passed a law requiring all mines to have two openings as a safety measure. The Company for some unknown reason chose to ignore the law and was eventually closed by the state. The town was abandoned around 1930. Pardee would be well worth the visit if you could get to it. Submitted by Henry Chenowith.
Mined form 1899 to about 1930. The price of sivler went down and the residents moved. I think the mine was never very productive and one can not find evidence of a tunnel or deep shaft. Submitted by: Bill Schillereff.
The ruins of the Iron Mountain Mining Company mill are easily accessible by 2WD and are located 3 to 4 miles from Superior, MT on a well-maintained Forest Service road. The townsite of Pardee some distance up grade from the mill and accessible only by 4WD and a driver who's not afraid of a very narrow, steep road/trail. There is only one turnaround place before you get to Pardee. At the mine site, the remans of a large, heavy-timbered ore bin still stand and one can find some evidence of foundations for the mine buildings. There may be evidence of house foundations just above the mill site but the tree growth is very dense. The mine transported the ore to the mill via a small narrow gauge train that ran alone the edge of the steep slope. Ore was dumped into a bin at a trestle placed near the end of the ridgeline. It was then move downgrade via a long tramway that took the ore to the mill itself. There are a number of historical photos of the place and several of them are published in a book titled "The Montana Historical Society of Mineral County - 118 Years of History". You can purchase a copy from the museum which is located in the library building in Superior.
I last visited the mill ruins and Pardee town site in July, 1998. Submitted by :Tim Stolle

Pardee
Courtesy David Eggebraaten

Pardee
Courtesy Stephanie Lang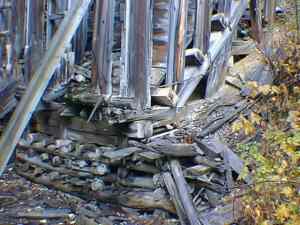 Pardee
Courtesy Stephanie Lang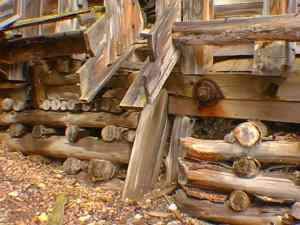 Pardee
Courtesy Stephanie Lang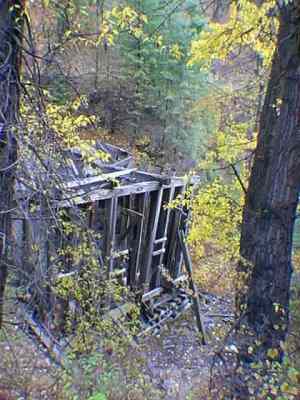 Pardee
Courtesy Stephanie Lang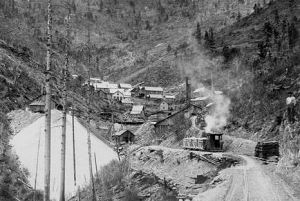 Pardee Mine and Railroad
Courtesy