Judson was a small community of approximately 600 people. As you entered town, on the left were three stores, I.B. Jenkins', Dolozier's, and Holmes Patterson's. Across the street was E.B. Jenkins' store. There was a sawmill between the store and the river, run by Caro Jenkins. The Tennessee River ran through the middle of Judson. Across the bridge on the right was Crisp's Garage and underneath the garage was a cornmill. On the left was a barber shop, run by N.C. Ashe. The Post Office was between the Barber Shop and,the Railroad. P. L. Crisp had a store across from the Post office.
The Southern Depot was across the Railroad tracks on the right. Harvey Greene was the Post Master up until they were forced to move for the flooding of Fontana Lake. Prior to that time he had worked in one of the stores for $2.00 per month. The train ran through Judson 4 times a day; twice to Murphy and twice to Bryson City. Ace Enloe's Farm was on the right at the lower end of town.
The Judson Elementary School sat on a hill above the Depot. At one time it had been a hotel, when Whiting Lumber Company was in operation in Judson. Vance W Greene, Sr. was a teacher there. He taught grades 3 and 4. He also taught grades 1-7 at Forney Creek. The High School age children attended Almond High School which was located where the Almond Boat Dock is now.
There were two churches in Judson; one Baptist and one Methodist. There were two doctors at different times in Judson. The first was Dr. Brock and then Dr. Orr. After they left, Dr. Bennett from Bryson City would come to Judson. Some people rode the train to Bryson City or to Sylva to see a doctor.
Courtesy of KATHY-GREENE from a narrative by Clay Clark Feb. http://freepages.genealogy.rootsweb.com/~lynda77/judtxt.htm.
Submitted by Mike Woodfin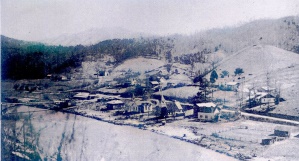 Judson before being inundated by waters from the Fontana Dam.
Picture courtesy of Ellis and Keener Connections website