In the march of 1874, the United States Government ordered the establishment of a military camp at the Red Cloud Indian agency on the White River. Home of some 13,000 Native Americans, many of whom were considered hostile, the agency was one of the most troublesome spots on the Nebraska plains. The original camp was named Camp Robinson in the honour and memory of a Lt. Levi H. Robinson, who had been killed the previous month by the Natives. In May, the camp was re-located to an alternate site, and in January 1878, it was officially designated Fort Robinson. Submitted by: Ryan J. Hill
as quoted in "Nebraska Place-Names" by Lilian L.
Fitzpatrick, 1960.
"Nonpareil. Grant L. Shumway gives the following account of the naming of this place: 'Nonpareil was the earliest town in Box Butte county, being the first county seat. As nearly as may be ascertained, it was named by Eugene Heath who started the newspaper called "The Grip" in this town. Because of the small size of the town and the establishment of the first newspaper, he selected the name Nonpareil, from the name of a very small or six-point size of type. The original name for this place was Buchanan, but Heath secured the change, through the United States post office department, to Nonpareil.'"
Andrea Kadavy

Fort Robinson
Courtesy Ryan Hill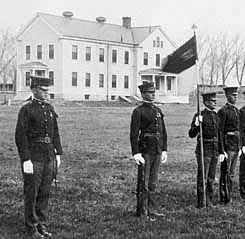 Fort Robinson
Courtesy Ryan Hill