Acoma. Situated on top of a 357 ft high mesa, assessible either by a staricase cut into the rock or by a sand dune filling a large fissure. This village was first reported in the fall of 1540 by hernando de alvarado, one of coronado's soldiers. At that time, several thousand indians may have lived in the village. Today only a few members of the tribe remain, the otheres having settled in a community nearer the highway or in the valley below. The name is from the keres indian language; ako meaning 'white rock' and ma 'people'; the full name, then, means 'people of the white rock'. Espejo first used the present spelling in 1583. The mission was established in 1629, and dedicated to st. Stephen. It is the largest of the early nm churches. The capture of acoma, in a siege lasting from jan.21 to 23, 1599, is reported by gaspar perez de villagra in his 'history of new mexico (1610). A number of celebrated stories dealign with early days at acoma are to be found in willa cathers 'death comes for the archbishop (1926). Acoma and a lago d'acoma appear on l'atlas curieux (1700). See , acoma grant. Acoma creek. Pueblo land grants. Submitted by: Samuel W McWhorter
Map of New Mexico Showing Acoma in 1772.
Acoma was no old Pueblo when first seen in 1540 by Spaniards. In 1599, a Lt. Zaldivan and 14 soldiers were killed while trying to extort grain. In retaliation, Zaldivans brother, with about 30 men, climbed the rock and defeated the Acoma's in a hand to hand battle lasting three days. Over 600 Acoma indians lost their lives, many leaped from the high cliffs rather than surrender to the Spaniards. In further retaliation, Zaldivan ordered a foot to be chopped off of 200 warriors over age 20. He also took as sevants some 200 younger boys and women to be sent to Mexico to serve the king. Acoma revolted again in 1692 during the big indian revolt led by "Pope" of Taos. The mission was destroyed and the resident priest was slain. Acoma was rebuilt after the reconquest.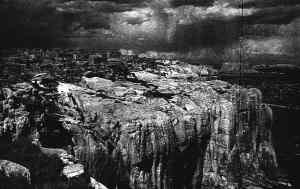 Acoma in the 1950's
Courtesy Samuel W McWhorter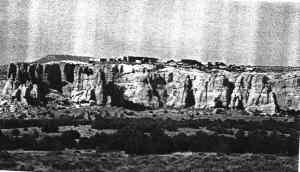 Acoma in the 1950's
Courtesy Samuel W McWhorter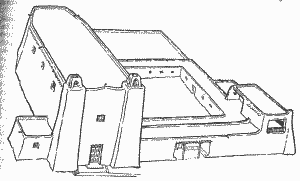 Acoma Mission - 1638
Walls 10 feet thick adobe and rock.
All material used in construction was carried up a 375 foot trail in baskets.
Courtesy Samuel W McWhorter