Cabezon is a classic. A lot still remains, but unfortunately, it is located on private property with numerous no trespassing signs posted.
The village was started in the 1870's as the focal point for farming and raising sheep. It was also a stage stop between Santa Fe and the military outpost at Fort Wingate. It quickly grew with the mandatory saloons, blacksmith shop, stores, and the like. Richard Heller ran the Heller Store and post office for a good many years. Mr Heller was the prominent Cabezon citizen of the day - he was a large producer of sheep and cattle, as well as his retail business.
Cabezon florished until the 1940's. Mr. Heller died in 1947, and the Rio Puerco dried up. The post office officially closed in 1949. Much still remains, and one can still get a good look at it behind the fence. The site sits at the base of Cabezon Peak - visible for miles.
Submitted by: Paul Lessard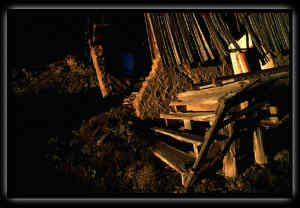 Cabezon
Courtesy Akio Ohki

Cabezon
Courtesy Samuel W. McWhorter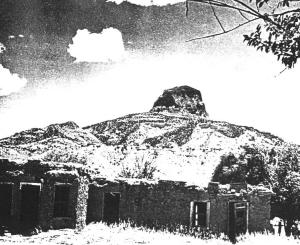 Cabezon
Courtesy Samuel W. McWhorter

Cabezon
Courtesy Samuel W. McWhorter

Cabezon
Courtesy Samuel W. McWhorter