Sawyer, as well as nearby townsites Diener and Copperton, were logging towns that sprung up with the Zuni Mountain Railroad. From about 1901 to 1931, the Zuni Mountains were deforested at a very rapid rate. These three towns came about to meet the needs of the loggers and the railroad workers. Most of the logs were shipped back to Albuquerque at the American Lumber Company. The towns grew a little, but died fast when the logging stopped. There isn't much left, but it's fun to see where the old tracks were laid throughout the forest.
Submitted by: Paul Lessard
The Zuni Mountains was home to a lumber camp named Sawyer from the early 1900s to 1919. Never having more than thirty families as its total population, the town was able to support a saloon, a mercantile store, a two-room school in session during the winter months and a village constable. When the trees began to disappear, the sawmills closed, the people moved away and Sawyer became a ghost town. A few sturdy log buildings and others not so sturdy remain at the townsite high in a peaceful valley in the Zuni Mountains. Courtesy Henry Chenoweth.
SAWYER. Abandoned sawmill site of the American Lumber Co N of Oso R8dge near the hedwaters of Bluewater Creek, a little E of the Notches in Oso Ridge. SAWYER. Post office 1909/1916. Submitted by: Samuel W McWhorter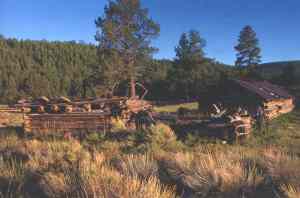 Sawyer
Courtesy Kurt Wenner

Sawyer
Courtesy Kurt Wenner