A small ranch had been active in Antelope since the 1870s but it was not until mining activity in Little Fish Lake Valley that a regular settlement began to form. A post office opened on February 8 1904. Antelope began to fade after mining activity at nearby Danville, Stargo, and Lauville ended. The post office closed on July 31, 1908 and Antelope returned to ranching. The ranch was abandoned in 1944 and the site has slowly deteriorated. The main ranch house is still used to house cowboys when they work cattle in the valley. And there are other interesting remains that make the trip worthwhile.
Submitted by: Shawn Hall from his book Preserving The Glory Days: Ghost Towns And Mining Camps Of Nye County, Nevada Click here to purchase his book!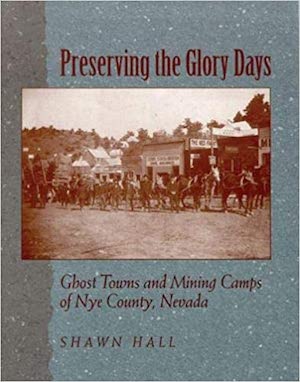 Antelope Springs was noted for its main spring, which produced 500 gallons daily to provide the district with a commodity that was quite rare in the desert. The Bailey brothers first made Ore discoveries in 1903. The Bailey brothers, the Jordan brothers, and Frank Reilly made additional discoveries in 1906. They were the only inhabitants of Antelope Springs until 1911 when the first semblance of a camp was formed. By the end of the year, the population stood at 150. A number of buildings were moved from Jamestown and businesses included a lodging house, two saloons and a restaurant. Difficulty transporting the ore to Goldfield hurt Antelope Springs chances for survival. Even though the ore was extremely rich in some areas, the cost of getting it to the mills in Goldfield cut the actual profit margin drastically. After the population peaked in 1912, Antelope springs headed downhill rapidly. Only the richest ore could be sent to Goldfield and that was quickly running out. By 1913, the population was under fifty and by 1914 the district was completely abandoned. The site is now part of the Nellis Air Force Bombing and Gunnery Range and is off limits to the public.