Name is Latin for gold. Located on the eastern foot of the Bull Run Mountains. Aura was founded late 1905 and platted in March 1906. Post office opened July 5, 1906. Town was the commercial center of the Centennial Mining District, but no mining was done within Aura townsite. Population peaked I n 1907 at 150. Businesses included a saloon, two stores, two boarding houses. A school opened in 1907. By 1917, most mining in the district faded away. The post office remained open until September 30, 1921, all businesses were empty by then. The school remained open until July 1927. Only stone walls of the Aura Saloon are left of the original townsite. Submitted by: David A. Wright
Although there is little left to see in Aura, the drive to the site offers some of the best scenery in Elko County. The town was formed in 1905 and a townsite was platted in 1906. It came to life with the revival of mines in Blue Jacket Canyon and Bull Run. The town was the center of what was once known as the Centennial Mining District. Aura served as a supply depot for local mining companies and miners and was a stop on the western branch of the Northern Stage Company. The town had a saloon, several stores and boarding houses. As long as there was mining in the area, Aura remained alive. By 1917 the bulk of mining activity in the district was over and most people had left and the town of Aura emptied. No one ever came back to live in Aura.
Submitted by: Shawn Hall from his books Old Heart Of Nevada: Ghost Towns And Mining Camps Of Elko County Click here to purchase his book!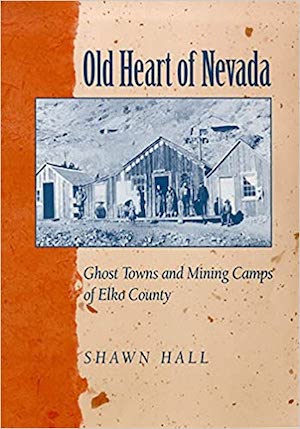 Connecting The West: Historic Railroad Stops And Stage Stations In Elko County, Nevada Click here to purchase his book!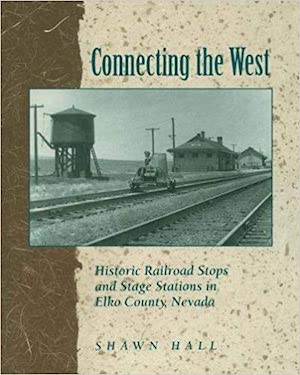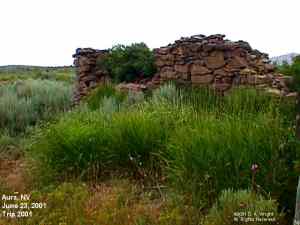 Aura. This ruin is reported to be that of a saloon. D.A. Wright photo.