Built on mining speculation in the Silver Canyon area.In early 1800's it had two blacksmith shops,saloons,a store andtwo boarding houses. Post office closed in 1938 after a rebirth in early 1900's Submitted by: Paul and Connie Hodson
Located in the Silver Canyon District, the first discoveries were made in 1869. A small camp of 50reached its peak in 1872 and by 1873 the site was empty. In 1878, new discoveries were made and a new town called Aurum was organized. Aurum had become a fair sized town by 1881. It maintained a post office, a merchandise store, a saloon, a blacksmith shop, several boarding houses, and a school. In 1882, Aurum experienced a mining slowdown. The mill shut down and only 8 men were working the Aurum mines. But Aurum experienced a revival in 1887 and by 1888 Aurum once again had 50 residents. The revival peaked in 1898 and by 1906 the district was all but abandoned. The last resident left in the mid-1920s and Aurum officially joined the White Pine County ghost roll. A cemetery is on a small hill that overlooks Aurum.
Submitted by: Shawn Hall from his book Romancing Nevada's Past: Ghost Towns And Historic Sites Of Eureka, Lander, And White Pine Counties Click here to purchase his book!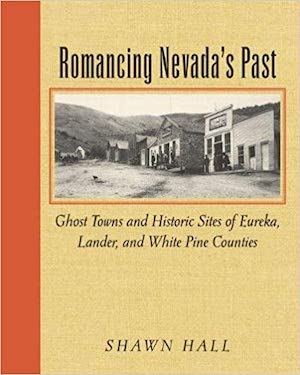 Aurum
Courtesy Paul and Connie Hodson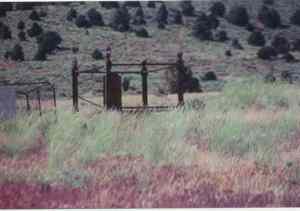 Aurum
Courtesy Paul and Connie Hodson