Buena Vista was a collection of several townsites and mines at the north end of the White Mountains, south of Montgomery Pass. The region was periodically active before 1905 as part of the Montgomery Mining District. After 1905 the district was called the Oneota Mining District.
In the year 1905 a mild rush was on to Buena Vista. Mines straddled the backbone of the White Mountains north of Boundary Peak (Nevada's highest point and barely inside the state) and south of the former Carson & Colorado Railroad. Dwellings and businesses seemed to collect wherever mines were found and several minor "suburbs" formed in the primary Buena Vista district with no particular pattern or formation of a main Buena Vista townsite. Some newspaper accounts give confusing details as to Buena Vista, specifying particulars of newsworthy events as happening high up in the Tip Top Mine area, or down on the railroad near the tunnel (W of Montgomery Pass). Some of the mines were (and are) found at altitudes approaching 11,000 feet, some are found down near the railroad grade at an altitude below 7,000 feet.
As the name implies, Buena Vista = "good view," and that is the case on the crest from Tip Top (Sugarloaf Peak) to Mustang Mesa. A 360º view is found at those points, with vistas ranging to the west to the Sierra Nevada (from the Cottonwood Canyon country to the south to north of Bridgeport to the north), to the north toward Hawthorne, to the east-northeast to the Toiyabie and Toquima Ranges, and southeast into the Lida area.
The region was part of Esmeralda County until 1911, when Mineral County
was carved out of the northern half of Esmeralda.
The region quieted down substantially by 1907 and most post offices
closed by 1915.
Townsites and Post Offices include:
· Buena Vista (PO active December 14, 1905 to April 24, 1911)
· Bley (PO active July 9, 1914 to July 31, 1915)
· Montgomery (PO active September 27, 1916 to September 30th, 1945)
· Oneota (PO active June 1, 1906 to February 15, 1907)
· Queen (PO active October 26, 1912 to January 15, 1914)
· Sunland (PO active April 24, 1911 to July 31, 1912)
· Gold Hitt (No PO)
· Nicholsville (No PO)
· Nichols Camp (probably Nicholsville)
· Shanghai (No PO)
· Tiptop (No PO)
· Turner (No PO)
Today ruins can be found by taking a dirt road south from US6 at Montgomery Pass (accessed by driving around the back of the Montgomery Lodge Casino). Beginning at Sugarloaf Peak, extensive mine ruins are found. The road continues up to Mustang Mesa, where a locked gate blocks further access. Mines are found on both sides of the main ridgeline. In side canyons, several structures can be found. A sleigh from the period is found near Tip Top Mines. A 10-stamp mill can be found in a side canyon near Gold Hitt.
The Forest Service has tentative plans to remove the mill, but a location to put it has not been settled: put it at the Central Nevada Historical Society museum at Tonopah? Or take it to the Laws Museum near Bishop, California? The mill is located in Nevada, so the Tonopah site is favored, but since it is located on Inyo National Forest land, which is headquartered in California, the Laws site has much favor.
Some notable events as told in the Inyo Register newspaper (Bishop, CA) through 1909:
· September 28, 1905 Inyo Register - First published newspaper account of Buena Vista.
· November 16, 1905 IR - wagon road being constructed between Gold Hitt
and Buena Vista.
· November 23, 1905 IR - Telephone system for Buena Vista.
· January 18, 1906 IR - Telephone line, Buena Vista to Basalt.
· July 5, 1906 IR - Gold Hitt townsite name changed to Oneota.
· July 12, 1906 - Baseball game played July 4 against Independence.
· August 2, 1906 IR - Nicholsville was a townsite laid out. Nicholsville
located at the railroad at the foot of the mountain, two miles from
"Shanghai."
· August 9, 1906 IR - Post offices opened at Oneota and Buena Vista.
· November 8, 1906 IR - Deadly train wreck takes place on the Carson &
Colorado Railroad at "Buena Vista."
· December 6, 1906 IR - Rich strike made at Queen Station.
· April 4, 1907 IR - Buena Vista anticipates a rush.
· April 18, 1907 IR - Buena Vista hopes for a railroad branch into
district from off the Carson & Colorado Railroad. As a paradox, a train
wreck on the C&C takes place in "Buena Vista."
· April 8, 1908 IR - The Golden Gate Mine employs 60 men.
· September 10, 1908 IR - article "Buena Vista and Vicinity," Tasker
Oddie controls the Brownie Mine at Buena Vista and is seeking an option
on the Tiptop. In other Buena Vista news, Numerous railroad surveys for
a tunnel 10,000 feet long under the White Mountain summit. The residents
of Buena Vista have much faith in that route selected rather than the one
north past Benton and cutting through Truman Meadows area. Many
investments made by companies with much capital reported from Indian
Queen Mine.
· September 24, 1908 IR - a quotation says that "Mayor W.Y. Gail of Buena
Vista was in town [Bishop] at the close of last week."
· December 17, 1908 IR - Tasker Oddie secures option on the Tiptop Mine.
· March 4, 1909 IR - An Al Stevens, S.T. McElroy and Joseph Jones, all of
Buena Vista, start on a trip to investigate mining camps in southwestern
Nevada and Death Valley country.
___________________
David A. Wright
Great Basin Research
Map of Buena Vista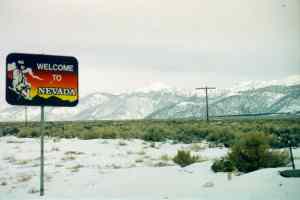 View east toward the Buena Vista area of the White Mountains from the California / Nevada state line on highway US6. Sugarloaf is the prominent peak in the middle background. January 25, 1998.
Courtesy David A. Wright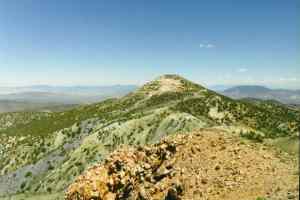 Sugarloaf Peak and the Tip Top Mine area. View north. July 3, 1995.
Courtesy David A. Wright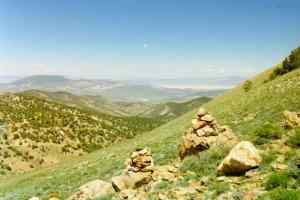 Stone claim markers. Near Mustang Mesa at an elevation just under 10,000 feet. View northeast into the interior of Nevada. July 3, 1995.
Courtesy David A. Wright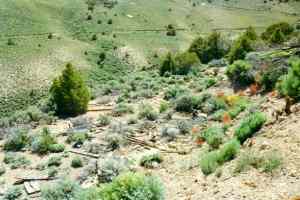 Lumber remains near stamp mill. July 3, 1995.
Courtesy David A. Wright

An old sled used to pull items through the abundant snows of winter. July 3, 1995.
Courtesy David A. Wright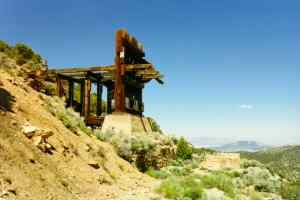 10-stamp mill in canyon on the east side of Sugarloaf Peak. July 3, 1995.
Courtesy David A. Wright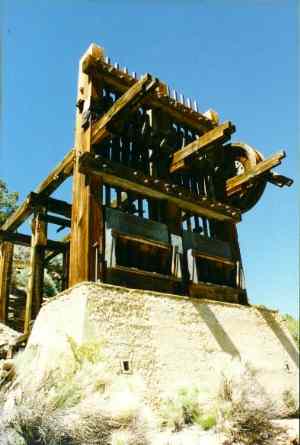 10-stamp mill. July 3, 1995.
Courtesy David A. Wright

View from Mustang Mesa, nearly 10,000 feet elevation, into Indian Queen Canyon, an older mining area that predated Buena Vista by two decades. The Indian Queen area was extensivley worked during the period that Buena Vista came alive. View is south toward Mount Montgomery (in California) and Boundary Peak, Nevada's highest point. July 3, 1995.
Courtesy David A. Wright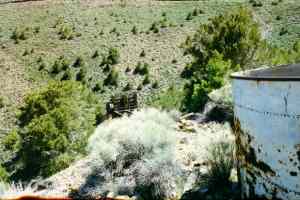 Water tank and 10-stamp mill. July 3, 1995.
Courtesy David A. Wright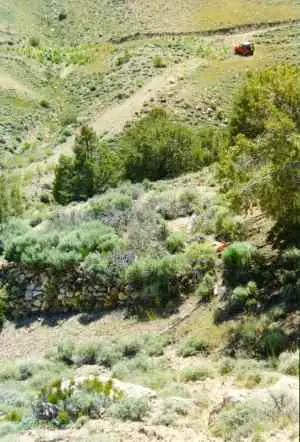 Stone retaining wall once held a fairly large structure near the stamp mill. July 3, 1995.
Courtesy David A. Wright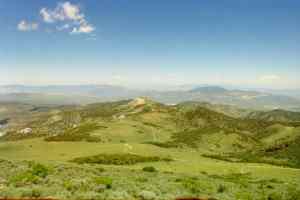 View from near Mustang Mesa northward over Sugarloaf Peak, itself over 9,000 feet elevation. July 3, 1998.
Courtesy David A. Wright