Originally founded as Mardis. Placer gold discovered by 1876. Stores, saloons, hotel, school, an icehouse were constructed in this lawless town in the middle of nowhere. Mardis failed by 1883, but a revival caused the reorganization of the district and a post office named Bayard opened August 28, 1886. Bayard post office closed February 2, 1889, and by the census of 1890 there were 41 people living in the camp. The area slumbered until 1894 when another revival occurred and Charleston post office opened January 31, 1895. It followed in the footsteps of its predecessor Mardis in that lawlessness reigned because of its remote location. By 1900, the census that year placed the population at 40. A school opened that year when the large Prunty family came to town, that family grew and Prunty descendants still occupy the region. Mining continued through 1942. The Charleston post office closed July 31, 1951. A tungsten mining operation briefly made things active between 1954 through 1956 and the area has been quiet since. Submitted by: David A. Wright
Charleston was first named Mardis after placer gold was discovered 1876. The town grew quickly and soon contained stores, saloons, a hotel, a schoolhouse, and a reputation for lawlessness. The town was named after a George Washington Mardis and is one of the more interesting characters in Elko County history. He was raised in Pennsylvania and his appearance was somewhat intimidating due to a mining explosion accident that took one of his eyes and scarred one side of his face. But he had a reputation of honesty and people trusted him so much they allowed him to haul their ore to the mills in Elko and in Deeth. On one such trip, Mardis was robbed, shot and killed by a Chinese miner who in turn was executed by his people. Both were buried in the cemetery at Gold Creek. The town faded after the death of Mardis and by 1883 on a handful of people remained. But the town continued to survive and by 1890 its population had increased to forty-one. The town was renamed Charleston after a Tom Charles, a local miner. Around 1900 the Pinkard Prunty family with twelve children arrived and took up residence in Charleston. Mining production continued to be erratic and the Prunty family did virtually all the mining near Charleston for the next forty years. While mining continued, the Charleston area was becoming cattle country. Today, ranching plays a prominent role in the area with the Prunty family operating many of the ranches. The trip to Charleston is not only interesting in a historical sense but the scenery on the way is some of the most spectacular in the state.
Submitted by: Shawn Hall from his books Old Heart Of Nevada: Ghost Towns And Mining Camps Of Elko County Click here to purchase his book!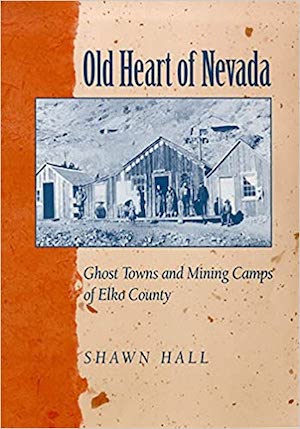 Connecting The West: Historic Railroad Stops And Stage Stations In Elko County, Nevada Click here to purchase his book!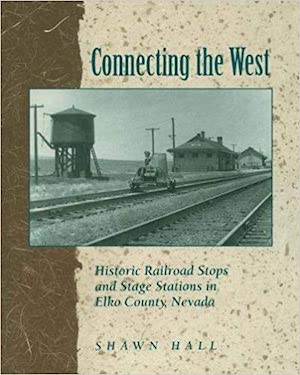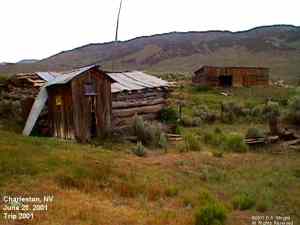 Charleston. D.A. Wright photo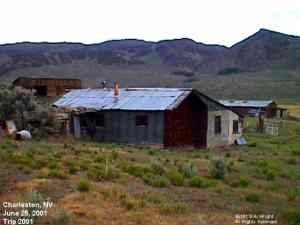 Charleston. D.A. Wright photo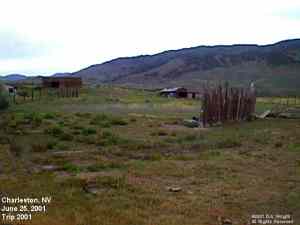 Charleston. D.A. Wright photo