The Clifford brothers, Ed and James, discovered silver in the Stone Cabin Valley of central Nevada in December, 1905. They sold their claim for $250,000. Within two weeks 40 tents were pitched with the obligatory saloon. Many prominent men of the era, such as Charles Schwab, and "Diamondfield Jack" Davis had holdings in Clifford. Population peaked in 1908 when about 100 houses, tents, saloons, dance hall, stores, and boardinghouses. The post office was known as Helena, and operated between December 8, 1908 and July 15, 1909. There was a stage line to Tonopah. The camp died during the panic of 1908, but leasers were active at times during the decades since. The area is quiet today. Submitted by: David A. Wright - Great Basin Research
It was in 1905 the Clifford district was discovered by an Indian from Tonopah. The Clifford brothers staked a few claims one of which turned out to be the rich Clifford mine. The Cliffords sold their claims for $250,000 in 1905. This created much interest in the district and soon Clifford began to boom. Clifford was close to the Ely stage line, and ore mined in the district was shipped forty-two miles to Tonopah. A townsite was created and lots began to sell for $100. A large hotel was erected and the camp had a population of 100. In the early days of 1906, new mining companies were formed. The year 1908 was the year in which Clifford peaked. The town's population had reached 500 and there were 100 houses and many tents. The Clifford mine slowly began to run out of good ore and the town began to die. The post office closed on July 15, 1909, signaling the end of Clifford. There was a revival in 1925 when the Clifford Gold Mines Company purchased the Clifford mine and fourteen claims and began operations. This brought new life to the empty town. Many houses were moved to the town and the school district was reestablished. However, in 1927 financial problems arose and the company was attached for debts. The company was forced to close in 1929 and Clifford emptied one last time. Not much remains at once bustling Clifford. A fire in 1946 destroyed the last two buildings at the townsite.
Submitted by: Shawn Hall from his book Preserving The Glory Days: Ghost Towns And Mining Camps Of Nye County, Nevada Click here to purchase his book!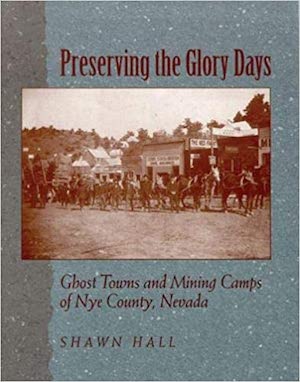 Clifford, Nevada. April 15, 1999.
Courtesy David A. Wright

Clifford, Nevada. April 15, 1999.
Courtesy David A. Wright

Clifford, Nevada. April 15, 1999.
Courtesy David A. Wright

Clifford, Nevada. April 15, 1999.
Courtesy David A. Wright

Clifford, Nevada. April 15, 1999.
Courtesy David A. Wright

Clifford, Nevada. April 15, 1999.
Courtesy David A. Wright

Clifford, Nevada. April 15, 1999.
Courtesy David A. Wright

Clifford, Nevada. April 15, 1999.
Courtesy David A. Wright

Clifford, Nevada. April 15, 1999.
Courtesy David A. Wright

Clifford, Nevada. April 15, 1999.
Courtesy David A. Wright

Clifford, Nevada. April 15, 1999.
Courtesy David A. Wright