What sets Galena apart from most early mining towns is the size of its cemetery and that it had a park, a rarity in a day when more thought was given to saloons and bawdy houses rather than to the pleasures of nature. The town was formed in 1869 and in a few years had a population greater than that of its neighbor, Battle Mountain. The Dutch Creek Mine was the most productive. The extraction of silver and lead from the native ore amounted to some $5,000,000. Galena is completely deserted but can be found on highway 8A, just south of Battle Mountain.
Submitted by: Shawn Hall from his book Romancing Nevada's Past: Ghost Towns And Historic Sites Of Eureka, Lander, And White Pine Counties Click here to purchase his book!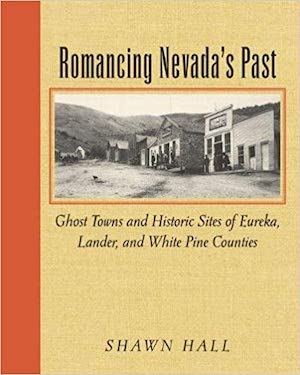 Galena had several lives. The first began in 1863 when the first discoveries were made in Galena Canyon. By 1868, more than 100 residents lived in Galena. A townsite was platted in 1869 and soon the streets were crowded with mercantile stores, saloons, and other business establishments. A water system was also constructed and in 1870 the boom in Galena began in earnest. By October of 1873, the population had risen to 250 including 100 miners, two hotels and four mercantile stores. Two stage lines were also established. Mining activity in the district continued to increase during the early and mid-1870s. But in the early 1880s mining activity slowed dramatically. Despite reduced activity, the 1881 census showed 348 residents called Galena home. In 1889 a fire destroyed the mill and assay office effectively putting an end to all mining activities until World War I. Three mining companies were active in the district during the 1910s and the 1920s. One of the companies lasted until 1927 when it folded. Since that time, there have been two revivals. One occurred just before World War II and another in the late 1960s and early 1970s. Today, Galena is a quiet settlement with a population of 10. While only a few wooden buildings stand from the period, the mining ruins are much more extensive. A visit is well worth the trip.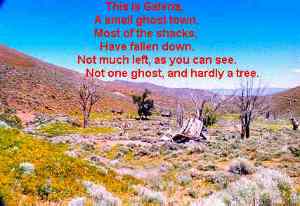 Galena
Courtesy Dougald MacArthur

Galena
Courtesy Dougald MacArthur

Galena
Courtesy Dougald MacArthur