Gold Bar was one of the small camps that sprung up around the Bullfrog/Rhyolite townsites. It's location was north of the Original Bullfrog strike. The town did manage to survive unlike several others due to its rich Homestake Mine and Homestake Mill. Close proximity to the northbound Las Vegas & Tonopah Railroad made transportation of reduced ores much less costly. A small camp grew close to the base of the impressive Homestake Mill, with some substantial structures built to ensure permanence. However, by 1908 the recession caused by the Panic of 1907 caught up with Gold Bar, as well as nearby Rhyolite, and operations began to slow down and eventually stop. The Homestake Mill closed in May of 1908. Today the town site is nearly destroyed by modern strip mining, although the impressive ruins of the Homestake Mill dominate untouched ground just to the north of modern operations. Submitted by: David A. Wright
The Bullfrog Mining District was home to a number of small mining camps in 1905. Gold Bar was one of those camps. The mainstay of the camp was the Homestake mine whose ore was sometimes worth as much as $150 a ton. A camp of more than fifty grew up around the mine and mill and a number of substantial buildings were erected. By early 1908 the ore began to fade and soon work on the mine stopped and the mill closed. It was then discovered the original promotion of the mine was a fraud and the ore was worthless. Most of the buildings were moved to Rhyolite during its boom. There is little to see today except scattered rubble and the foundation of the mill.
Submitted by: Shawn Hall from his book Preserving The Glory Days: Ghost Towns And Mining Camps Of Nye County, Nevada Click here to purchase his book!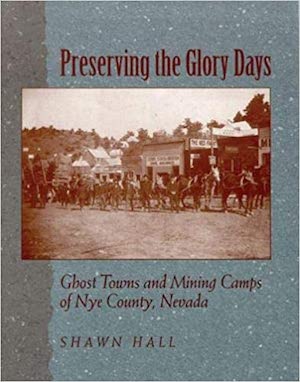 Gold Bar from southern access. View is dominated by modern strip mining. April 2000. D.A. Wright photo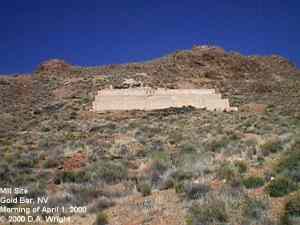 Homestake Mill ruins. Mill was located on the side of a steep hill. Townsite located to the left in photo, down near the bottom of the valley. April 2000. D.A. Wright photo.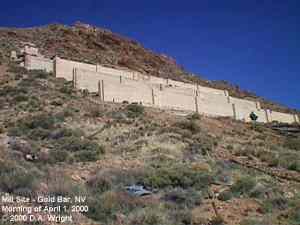 Homestake Mill ruins. April 2000. D.A. Wright photo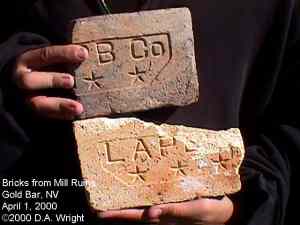 Detail of firebrick found amid ruins of Homestake Mill. April 2000. D.A. Wright photo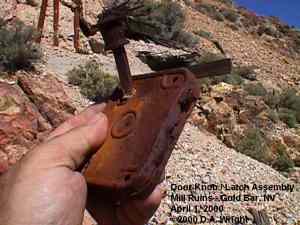 Door knob found amid debris of Homestake Mill ruins. April 2000. D.A. Wright photo