Gold ore was found between October 1904 and September 1905. In 1906 the Golden Arrow Mining Company laid out a townsite. A railroad was surveyed through here in October 1906 as part of a line planned to connect Tonopah and Ely, but never materialized. By 1907 the camp contained a hotel, store and saloons. But the boom fizzled by the next year. Sporadic exploration showed little return for the effort expended. The only residents today are wild horses, antelope, coyotes and rodents. Submitted by: David A. Wright - Great Basin Research
The story of Golden Arrow has a most unusual beginning. Discoveries in 1905 by Claudet and Marl Page, both of whom were deaf-mutes, resulted in a small rush to the area. The two men sold their claims for $45,000 in January 1906 and the Golden Arrow Mining Company was formed. Soon there were four mining companies along with many individual claim miners in the district. A new two-story hotel was built and filled to capacity and the population reached 200. By 1907 the town had a number of frame buildings, a mercantile store, a restaurant, and at least six saloons. Unfortunately for Golden Arrow, the town was more of a real estate promotion than a profitable mining camp. The ore did not last long enough for a large town to form. Golden Arrow was practically empty by 1909. A short revival in 1911 brought forty-five people back to the district but by September 1912 only eight people remained. Limited activity took place from 1913 to the 1980s when Golden Arrow disappeared for good. There are a number of mine ruins and a few old wood buildings still in the area.
Submitted by: Shawn Hall from his book Preserving The Glory Days: Ghost Towns And Mining Camps Of Nye County, Nevada Click here to purchase his book!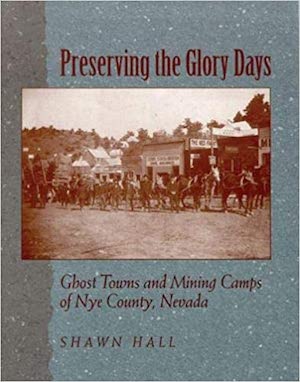 Golden Arrow
Courtesy David A. Wright

Golden Arrow
Courtesy David A. Wright

Golden Arrow
Courtesy David A. Wright

Golden Arrow
Courtesy David A. Wright

Golden Arrow
Courtesy David A. Wright

Golden Arrow
Courtesy David A. Wright

Golden Arrow
Courtesy David A. Wright

Golden Arrow
Courtesy David A. Wright

Golden Arrow
Courtesy David A. Wright

Golden Arrow
Courtesy David A. Wright

Golden Arrow
Courtesy David A. Wright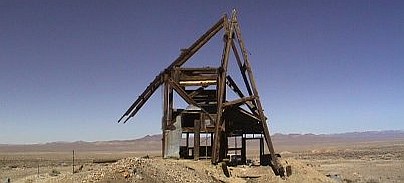 Golden Arrow
Courtesy Cat and Ripley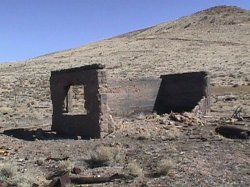 Osceola
Courtesy Cat & Ripley