Although not a "ghostown" in the classic sense, Hawthorne is chock full of interesting history. The townsite of Hawthorne was selected in 1880 by H.M. Yerington, the president of the Carson and Colorado Railroad Company.
Named for a lumberman friend in Carson City, Hawthorne was located near the busy Esmeralda toll road running from Wadsworth to Candelaria, from which radiating roads ran to all of the surrounding mining areas. Thus, it was the
perfect location to place a division and distribution point for Mr. Yerington's new railroad. On April 14, 1881, the first train arrived, loaded with prospective buyers for the new town lots. As an interesting aside, the enterprising Mr. Yerington lent his name to another Nevada Town: Yerington, NV, an agricultural center located in Lyon County.
In 1883, Hawthorne took the Esmeralda county seat from declining Aurora but later lost it to booming Goldfield. In 1911, it again became a county seat, this time for the new Mineral County. In 1926, a destructive munition
explosion in the east caused the military to select Hawthorne for a new munitions storage site. It was Governor Balzar, a former citizen of
Hawthorne, who in 1928 turned the first shovel of dirt and dedicated the new munition depot, which was officially opened in 1930. To this day, the U.S. Army Ammunition Depot, the world's largest facility of its kind, is the
focal point of economic survival in Hawthorne, employing some 600 of the town's 4900 or so total inhabitants and injecting over $22 million into the local economy annually. When approaching Hawthorne from the North on
Highway 95, along beautiful Walker Lake, a major tourist destination, the first thing the traveler will notice is the myriad underground ammunition bunkers marching like soldiers across the valley in which Hawthorne sits.
At the beginning of the Gulf War in 1991, Hawthorne saw the huge 16-inch gun
barrels stored at its ammunition depot resurrected for service on the World
War II-era battleships patrolling the Persian Gulf.
True to its name, Mineral County is rich in mineral resources. During the Nevada mining boom of the 1980's, historical gold and silver mining areas such as Candelaria, Aurora, Santa Fe, and Rawhide saw renewed activity. These workings were and continue to be a source of much-needed cash for this small Nevada town.
Although a shadow of its former self, Hawthorne clings to life with the typical Nevada fervor, its residents always ready with a welcoming smile and intriguing stories for all who will stop and sit a spell.
Submitted by Jerry Lorengo
Sources:
Nevada Division of Water Planning, http://www.state.nv.us
Mineral County Economic Development Partnership, P.O. Box 1635, Hawthorne,
NV 89415
Hawthorne is located about in the middle of Mineral County on U.S. Highway 95 just north of the present U.S. Naval Ammunition Depot. The story of Hawthorne is more the story of Mamie Frances Mingle, a native of Michigan who came to Nevada about 1904. She opened a boarding house in Goldfield then one in Diamondfield a year later and ultimately one in Aurora. The Lucky Boy mine was discovered in 1908, five miles south of Hawthorne, and Mamie became the manager of the company boarding house and an important influence in the mine's early development. Weighing ninety pounds at the time and only 4 feet 10 inches tall, she acted as bouncer when boarding house miners get out of hand. When Lucky Boy activity faded, Mamie refurbished her homestead near Walker Lake, raising chickens and selling poultry and eggs. Her favorite diversion was spending hours each Saturday fixing a chicken dinner for the children of Hawthorne, who were regaled by stories of mining camps and homespun advice. Mamie Mingle had known good and bad times in the heyday of the Nevada mining camps, had personified the indomitable spirit of the early pioneer women, and died peacefully at 88 in her home amid one of the largest industrial complexes in Nevada.
Submitted by Henry Chenoweth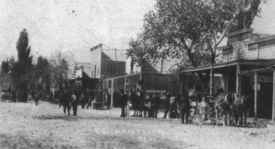 Hawthorne Courtesy Stanley Paher.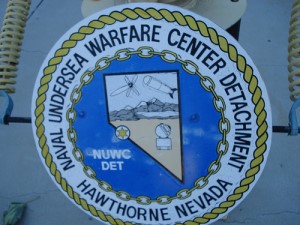 Hawthorne
Courtesy Al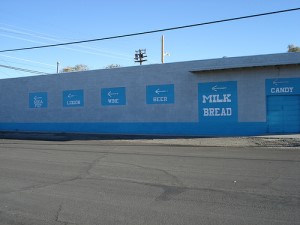 Hawthorne
Courtesy Al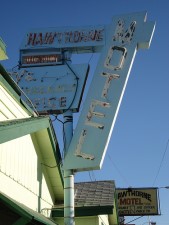 Hawthorne
Courtesy Al