Leeland was established when the Tonopah & Tidewater Railroad built through here in 1906. The boom camps of Lee, California and Lee, Nevada were in full swing a few miles west of here. Facilities for service was established by the railroad due to the abundant water in the lower Amargosa Valley. A post office was established November 23, 1911 and discontinued November 14, 1914. The Tonopah & Tidewater Railroad was abandoned during WW2 and tracks pulled up. Scattered debris remain amid scattered occupied homes. Submitted by: David A. Wright - Great Basin Research
Five miles to the west was Lee, California that was booming during the year 1906. The Tonopah and Tidewater Railroad established a small railroad station as an important shipping point for Lee and named the station Leeland. Regular train service through Leeland began on October 15, 1907. A week later a three-room station and a Wells Fargo office were completed. They had dirt floors and no plumbing or electricity. As Lee continued to grow so did Leeland. By 1911 twenty-five people were living at the station. The town reached its peak in 1912. After Lee folded Leeland began to fade. The post office closed in 1914 and the town slowly sank into oblivion although the railroad still used the site as a water stop. The Tonopah and Tidewater Railroad tore up its tracks in the early 1940s leaving Leeland to the ghosts. Nothing remains.
Submitted by: Shawn Hall from his book Preserving The Glory Days: Ghost Towns And Mining Camps Of Nye County, Nevada Click here to purchase his book!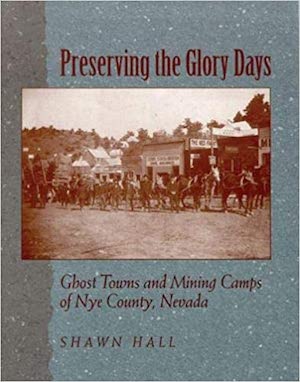 Leeland Station, Nevada. April 11, 1999.
Courtesy David A. Wright

Railroad grade of the Tonopah & Tidewater with scattered ties. April 11, 1999.
Courtesy David A. Wright

Two spikes plus a boxcar seal with the embossed number "T&T RR #35027." Such seals are still in use today, to seal off doors of boxcars and semi-truck trailers. April 11, 1999.
Courtesy David A. Wright