The settlement along the Humboldt River was named for the sheer rock walls to the east. The palisade, in turn, was named for a similar formation on the Hudson River in New York.
Active mining in the area dates to 1881, when the Onondaga and the Zenoli silver mine became the principal producers until they were abandoned in 1917.

A great part of the town's wealth was tied to the railroads. Palisade was founded in 1868 as a station on the Central Pacific, which later became the Southern Pacific. There may have been a population of 600, with churches, lodges, businesses, and a residential district.
When the Eureka mines began to play out after 1885, the town began to decline. Floods in 1910 destroyed much of the town and caused heavy damage to all three railroad lines. The final blow seems to have come in 1938, when the Eureka & Palisade Railroad abandoned the town. The town still clings to life with several old buildings and a post office, established in 1870. Submitted by Brandyn Garcia.
The town of Palisade came into being in 1868 and served as a stop on the new transcontinental railroad, the Central Pacific. The station quickly became prominent as the shipping point for supplies to mining districts in the eastern portion of Nevada. The town grew in importance in 1874 when the Eureka and Palisade Railroad was begun. The town became the headquarters for the railroad and its 4 locomotives, 58 freight cars, and 3 gaudy yellow passenger coaches. By 1878, more than 31 million pounds of base bullion had been shipped by the railroad. Several fraternal organizations made their homes in Palisade. The International Order of Odd Fellows and Masons constructed beautiful lodges in the town. Churches and a schoolhouse were built. The railroad built a large shop where freight cars were manufactured employing many of Palisade's residents. By 1882, the town had settled down to a consistent population of 250. When Eureka declined, Palisade declined. As Eureka's mines slowed down, the Eureka and Palisade Railroad runs became more and more infrequent. A series of disastrous floods struck the town in 1910, wiping out many businesses and damaging the railroads. In 1915, the town still had a population of 242, but within a few years the figure had dropped to less than 150. When the Eureka-Nevada Railroad pulled up its rails in 1938, the end of Palisades was in sight. The post office closed in 1961 and Palisade became a ghost town for good. Today, only two buildings remain in the town, both of them small wooden cabins. An extensive cemetery remains on the west end of the townsite. The ride to the site is well worth the trip for the beautiful scenic views in Palisade Canyon.
Submitted by: Shawn Hall from his book Romancing Nevada's Past: Ghost Towns And Historic Sites Of Eureka, Lander, And White Pine Counties Click here to purchase his book!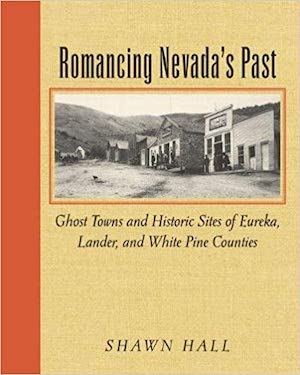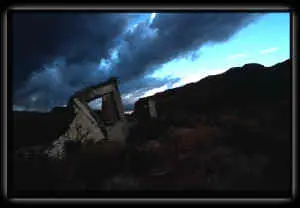 Palisade
Courtesy Akio Ohki