An example of a town that existed more on promotion, ornateness and given to a showy display of success that didn't exist, is the town of Rawhide. Not so much talked about was the gold mine stock manipulation that poured millions into the pockets of the manipulators but very little to the stockholders. Despite the fact that Rawhide had three banks, four churches, a school, twelve hotels, twenty-eight restaurants, a theater, thirty-seven saloons and a population of 5,000, the glaring and gross over-promotion which inflated its chance for success doomed the town from the start. Rawhide today offers the ghost town enthusiast the environment of a town that could have, should have, but didn't. Submitted by Henry Chenoweth.
State Highway 31 in Mineral County will take you to Rawhide and Stingaree Gulch. It has been said Stingaree Gulch was the only real rival San Francisco's Barbary Coast ever had. Either way, it made its way into history. Stingaree Gulch was pioneered in late 1907 and is reported to have had "five or six hundred girls on the line—all nations, all colors!" Stingaree's one winding, narrow thoroughfare was lined with buildings for half a mile on both sides with parlor houses, cribs, saloons, dance halls, and gambling casinos. Rawhide limited its district by ordinance. Said the Rawhide Times; "There is a determined stand taken by the better element that all questionable establishments shall be embraced in the limits of the Gulch to the west of Nevada Street."
My day at Rawhide: I had a 45-year flashback this morning about Rawhide, Nevada. I visited there in 1962, at the age of 12, before the new mining venture had begun, and investigated the ruins. My father had a good friend, Dick Whitten, who was an adventurer, mining engineer, deep- sea salvage diver and gold prospector (and the inventor of WD-40, to boot). Dick was resurrecting the Ringling Mine, restoring the mill and getting the old shafts ready for production. He did this as a business venture/obsession, usually selling out before his mines payed out.
We drove from Hawthorne across the desert to Rawhide, arriving in the late evening. We slept in one of the surviving hillside buildings, actually on a set of bedsprings, till morning. Dick had arrived that night, towing a huge water tank on the back of an engineless Dodge military flatbed truck, towed by his Caterpiller tractor (I told you he was an adventurer). We had the usual slab bacon-and-eggs-with- fried-Sheepherder's Bread breakfast off of metal plates and explored the town. There were a number of doorless safes scattered around, as
well as other artifacts, mostly left from the great fire. We
determined to map the ruins. We found a huge tangle of barrel staves (probably a brewery), old shoes, including ladies' high-laced boots, metal pans, dishes, many, many liquor bottles (a saloon or two, obviously), engine parts, old glass-cell batteries and other fascinating debris. I posed in the strap-iron cell of the jail for a picture.
We dug through one of the buildings and found a chest of drawers, removing many historical papers (sorry, but I was only 12 at the time), including stock certificates and a sheaf of interesting orders for parts ordered by Eugene Grutt from the E.R. Thomas Motor Company for his Thomas Flyer automobile. Today's little reverie was sparked by an article in the New York Times about the 1908 Around-The-World Auto Race, won by a Thomas Flyer. I am sad to say that I have long since lost these artifacts.
We spent a full day, visiting Boot Hill, various mine shafts and hoistworks and doing our best to imagine what "The Ring-Tailed Roarer" look like 55 years before. After the day in Rawhide, we went on to the Ringling Mine, exploring the stopes and shafts. We also found abandoned 1930s cars scattered over the desert around the mine. it had been picked clean by metal scavengers, but the concrete mill and hoist foundations were intact.
These were some of the truly fascinating experiences of my childhood. Dick Whitten was alive and well, age 95, living in Hawthorne, back in 2002, according to my late brother. If he is still around, I hope that you folks will look him up. He has some really interesting stories to tell. - John Potter
There are in fact two very informative articles from Desert Magazine that are really great, a lot of great pictures and info on the area. A Singular Bank Deposit is a great little vignette article with a cool Lost Mine twist, sort'a. Page 2, July 1961. Then there's Rawhide Scrapbook – May, 1963 – Page 10 – A collection of articles from the Rawhide Rustler, 1907-1908. For people who might want to feel the flavor of this ghost town, this is a great boost. Six pix.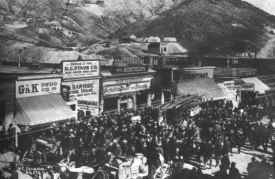 Rawhide
Courtesy Stanley Paher.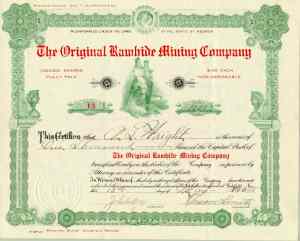 Rawhide Stock
Courtesy Steve Bruce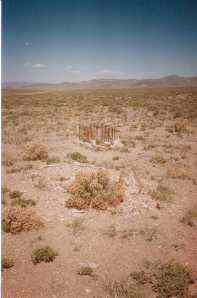 Rawhide Cemetery
Courtesy Kevin Baugh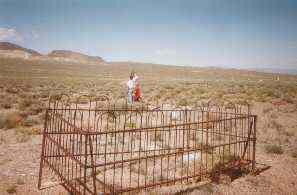 Rawhide Cemetery
Courtesy Kevin Baugh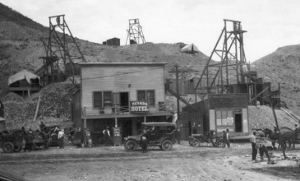 Rawhide 1915
Courtesy David Johnson