Reveille was started in 1866. Within a year 50 mines were being developed. A stamp mill was built in 1867. By 1880 the town was dead, but operations continued off and on until 1945. Submitted by: John Newsome.

Reveille, New

Old precedes the new and so it was that New Reveille came into being long after Old Reveille had ceased to exist. That was in 1904. The new town was platted directly across the Reveille mountain range from Old Reveille. The camp had grown some by the summer of 1904 when the initial excitement began to fade. It was close to becoming a ghost town when in 1905 new discoveries brought the town back to life. By early 1907, the town had a population of 150 and two new mining companies became active. The ore from the mines was sent to the Gila mill located in Reveille Valley to the west. By 1908, the revival began to slow down and the post office closed on December 31 1911. Limited activity took place as recently as 1945 but never lasted very long. Most of the buildings at Reveille were torn down leaving only some stone and adobe ruins.

Reveille, Old

Old Reveille has the distinction of being one of the first settlements in Nye County. Three prospectors discovered very rich ore in April 1866 and soon people began to flock to the newly formed district. By the following summer more than forty mines were being worked in the district. During Reveille's best years, prospectors made more than 950 claims in the Hills around the town. The richest of the mines was the Gila, which produced more than $500,000 worth of gold and silver before closing in 1891. From 1870 to 1880, Reveille experienced many ups and downs. During the spring of 1871, the town was nearly empty. By fall, about forty people had returned. By 1874 the mines had closed.

Submitted by: Shawn Hall from his book Preserving The Glory Days: Ghost Towns And Mining Camps Of Nye County, Nevada Click here to purchase his book!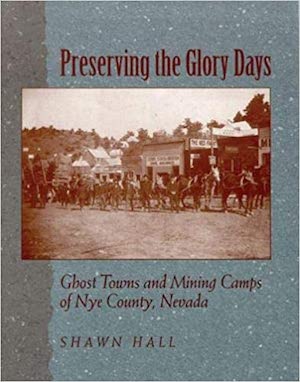 Old Reveille, NV. April 15, 1999.
Courtesy David A. Wright

Old Reveille, NV. April 15, 1999.
Courtesy David A. Wright

Old Reveille, NV. April 15, 1999.
Courtesy David A. Wright

Old Reveille, NV. April 15, 1999.
Courtesy David A. Wright

Reveille, NV. April 15, 1999.
Courtesy David A. Wright

Reveille, NV. April 15, 1999.
Courtesy David A. Wright

WESTERN PLACES publisher, Alan Patera, inspects the only complete standing structure left in Reveille. April 15, 1999.
Courtesy David A. Wright

Reveille, NV. April 15, 1999.
Courtesy David A. Wright

Reveille, NV. April 15, 1999.
Courtesy David A. Wright

Reveille, NV. April 15, 1999.
Courtesy David A. Wright

Reveille, NV. April 15, 1999.
Courtesy David A. Wright

Reveille, NV. April 15, 1999.
Courtesy David A. Wright

Reveille, NV. April 15, 1999.
Courtesy David A. Wright

Reveille, NV. April 15, 1999.
Courtesy David A. Wright

The Keitzke Mine area above Old Reveille. April 15, 1999.
Courtesy David A. Wright

The Keitzke Mine area above Old Reveille. April 15, 1999.
Courtesy David A. Wright

Reveille Mill, located in a valley to the east of Reveille. April 15, 1999.
Courtesy David A. Wright

Reveille Mill, located in a valley to the east of Reveille. April 15, 1999.
Courtesy David A. Wright

Reveille Mill, located in a valley to the east of Reveille. April 15, 1999.
Courtesy David A. Wright

Reveille Mill, located in a valley to the east of Reveille. April 15, 1999.
Courtesy David A. Wright

Reveille Mill, located in a valley to the east of Reveille. April 15, 1999.
Courtesy David A. Wright

Reveille Mill, located in a valley to the east of Reveille. April 15, 1999.
Courtesy David A. Wright

Reveille Cemetery. April 15, 1999.
Courtesy David A. Wright

Reveille Cemetery. April 15, 1999.
Courtesy David A. Wright

Reveille Cemetery. April 15, 1999.
Courtesy David A. Wright

Reveille Cemetery. April 15, 1999.
Courtesy David A. Wright

Reveille, NV. April 15, 1999.
Courtesy David A. Wright

Reveille, NV. April 15, 1999.
Courtesy David A. Wright

Reveille, NV. April 15, 1999.
Courtesy David A. Wright