Per Stanley Paher, Nevada Ghost Towns and Mining Camps, p. 367-372 Gold was discovered in 1905 and the town of RM estb. in '06. The town started as an underground load mining venture and continued all the way up to '35. Surface mining with earthmoving equipment lasted until '40. In '50 placer mining was done, with a dry land washing plant operating until '57. Much hydraulic mining was done. Total district production was over $8 million. Some people still lived there '65-69 (when book was written).
Gold was discovered at Round Mountain in 1905 but it was not until earlier the following year that more substantial discoveries aroused interest in the area. High-grade gold ore was discovered on a hill known as Round Mountain. By mid-year, the population was close to 400. A number of major mining companies became active in the area and soon the town was given the name of Round Mountain. By 1907, there were daily stages running form Round Mountain to Tonopah. The town contained many wood structures containing mercantiles, saloons, brokerages agencies, a school and a library. In 1906, the first two mining companies to begin operations were the Round Mountain Mining Company and the Fairview Round Mountain Mines Company. The value of the ore produced by the Round Mountain Company during the first ten years (1906 to 1916) was a little more than $3 million. By the beginning of 1909 there were six mills operating in the district. Businesses included hotels, general stores, banks, restaurants, lodging houses, a school, a library, and a hospital. By 1939 the town's population was still only 234. The value of total production through 1940 was $7.8 million. New surface operations on the side of Round Mountain began in 1970 and continue to this day. Most of the town's namesake, Round Mountain, has been carved away as the open pit continually expands. The expansion is troublesome in certain ways. Parts of the main ore body are under the town of Round Mountain, and eventually the town will be either moved or razed so that mining can continue. Present-day mining has led to the formation of a new town called Hadley in the valley below Round Mountain. There is still much to see in and around Round Mountain. Many buildings from the early days remain. See it now for soon it will be no longer.
Submitted by: Shawn Hall from his book Preserving The Glory Days: Ghost Towns And Mining Camps Of Nye County, Nevada Click here to purchase his book!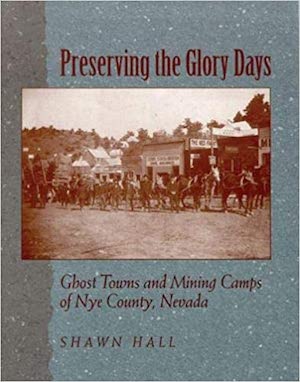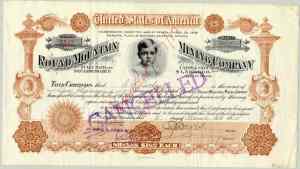 Round Mountain Stock
Courtesy Steve Bruce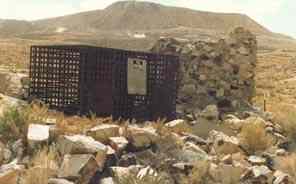 Jail
Courtesy Dolores Steele

The jail cell is only big enough to sit in. A horse thief or claim jumper or other offender could neither have stood up nor walked about. It's very likely that the folk who lived in Round Mountain in the old days were a
pretty careful bunch. Pretty careful to stay out of jail.
Courtesy Dolores Steele

Round Mountain
Courtesy Dolores Steele

Round Mountain
Courtesy Dolores Steele