Silver was discovered in the autumn of 1904. The following year, George Wingfield and George Nixon, prominent Goldfield men, platted a townsite. The silver ore was compared to that of Goldfield, and soon the camp flourished. Silverbow was blessed with ore, water and wood, scarce in many south-central Nevada camps, and soon the camp was the largest in the region. By autumn of 1905, the camp contained stores, saloons, and a meat company. On August 5, 1905, the first issue of the SILVER BOW STANDARD was published and distributed. It's editor was R. Leslie Smaill, formerly editor of the FALLON STANDARD As a publicity stunt, Smaill auctioned off the first issue of the newspaper, which was sold for $7. His next stunt was part of the January 6, 1906 issue, in which he printed the first page with a brilliant mixture of yellow ink and gold dust, which was assayed with a value of $80,000 per ton. A post office opened as Silver Bow September 27, 1905. A weekly stage ran to Tonopah. Silverbow was somewhat open and wild, a popular past time was claim jumping, which resulted in at least one death due to gunplay on the street. The first shipment of ore was made early in 1906, but the town suddenly went into decline late the same year. The STANDARD folded shortly after its grandiose publicity stunt, Editor Smaill left for the camp of Manhattan north of Tonopah to publish the MANHATTAN NEWS. A population remained large enough to support the post office until November 30, 1907. There were small booms in 1913 and 1920, but neither revived the camp. Submitted by: David A. Wright - Great Basin Research
Silver discoveries in 1904 and 1905 led to Silver Bow's population of more than 300 people. A town was platted in early 1905, a post office opened, a stage line to Tonopah was created, and the town took on an air of permanence. By the fall of 1905, the town had grocery stores, saloons, and a few general merchandise stores. In the Silver Bow district, silver was clearly dominant over gold. Some claims had as much as twenty times as much silver as they had gold. However, in 1906 Silver Bow began a quick downhill slide. Most of the mines had panned out and only the larger ones remained open. By the next year, only about thirty people remained in the district. By the end of 1908, the district had been abandoned. There were several attempts to revitalize the town up to 1929 but all proved unsuccessful. The remains of Silver Bow are not very extensive. A few wood cabins still stand along with some stone ruins and mill foundations. A four-wheel-drive vehicle is recommended.
Submitted by: Shawn Hall from his book Preserving The Glory Days: Ghost Towns And Mining Camps Of Nye County, Nevada Click here to purchase his book!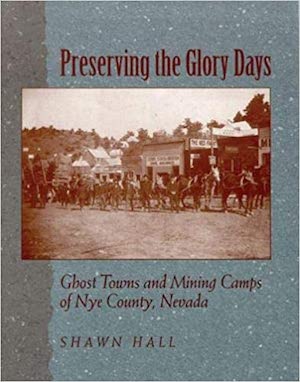 Silverbow, April 15, 1999.
Courtesy David A. Wright

Silverbow, April 15, 1999.
Courtesy David A. Wright

Silverbow, April 15, 1999.
Courtesy David A. Wright

Silverbow, April 15, 1999.
Courtesy David A. Wright

Silverbow, April 15, 1999.
Courtesy David A. Wright

Silverbow, April 15, 1999.
Courtesy David A. Wright

Silverbow, April 15, 1999.
Courtesy David A. Wright

Silverbow, April 15, 1999.
Courtesy David A. Wright

Silverbow, April 15, 1999.
Courtesy David A. Wright

Silverbow, April 15, 1999.
Courtesy David A. Wright

Silverbow, April 15, 1999.
Courtesy David A. Wright

Silverbow, April 15, 1999.
Courtesy David A. Wright

Silverbow, April 15, 1999.
Courtesy David A. Wright

Silverbow, April 15, 1999.
Courtesy David A. Wright
Grave site at Silverbow. Engraved in the headstone is "FRED NEWTON - 1870 - 1822 [1922] - My Beloved Husband." April 15, 1999.
Courtesy David A. Wright