Sunnyside is the story of the Whipple Ranch in the White River Valley. It started with a ranch owned by a man named Horton. He built the ranch in the 1880s and soon a small settlement grew up around it. John Whipple bought the Horton Ranch in the fall of 1904. He moved his family to Sunnyside after Christmas of that year. He had 200 head of beef cattle on the ranch in 1904 and 1905. Whipple also had the mail route from Pioche to Sunnyside, a trip that took two days by buggy. He worked the route for two years then hired a man to do the job. The hired man lost a horse on one of his trips in 1906 and Whipple went to look for the horse. While searching, he found an outcropping of rock that turned out to be high-grade silver ore. This was later developed into the Silver Horn mine. His son, Clair, leased the ranch from his father and later purchased it in 1940. Sunnyside had a population of around twenty-seven, most of whom worked on the ranch. In 1962, they sold the property to the Johnson family, the present owners. The ranch is in a beautiful setting and is well worth seeing.
Submitted by: Shawn Hall from his book Preserving The Glory Days: Ghost Towns And Mining Camps Of Nye County, Nevada Click here to purchase his book!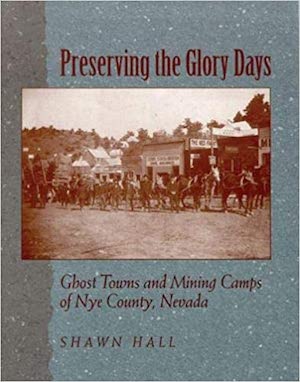 My name is Helen Willis. I am the granddaughter of Harry Howell Lewis. His father was George Lewis. George Lewis came to the White River Valley sometime in the early 1860's. It is in our family oral history that George Lewis was the first owner of Sunnyside Ranch in Nye County, Nevada. It may have been called the Old Home Ranch in the early days. My great grandmother was Martha Moon Tucker Lewis, her family had the Moon Ranch, the next ranch over from Sunnyside. She and George were married in 1872 or 1873. George died in Missouri after returning there to attend his father's funeral in 1883. Martha Moon and her children kept the property and increased it, making it one of most valuable in the area. After her death, her children, my grandfather being the youngest, sold the ranch to the Whipple family. My mother's three oldest siblings knew their Grandma Lewis, and were born between 1906 and 1914. They also lived at the Sunnyside Ranch. My mother did not know Grandma Lewis and tells us that the ranch was sold before she was born in 1925. My mother's mother had the ranch documents for years, but I don't know what happened to them after she died in 1975. My grandfather was born on the Sunnyside. George Lewis' father, Howell Lewis, Jr., was a great grand nephew of George Washington, his father, Howell Lewis, Sr., being the youngest son of Betty Washington Lewis and Fielding Lewis. My great grandfather, George emmigrated from Missouri in 1852 with the Robert Allen Company and spent some time in California. The Hamilton and Pioche telegraph line was not far from the ranch and was finished in 1873. My great grandfather George, built the home at Sunnyside according to family tradition. My grandfather Harry Howell Lewis was born at Sunnyside 21 April, 1882. He grew up on the ranch, and he, along with his brother George, was very sorry to see it go. His sister Emma moved to Washington State and lived in another place called Sunnyside.
This is, of course, family lore. I believe it to be accurate but would need to look up probate and deed transfers to authenticate the information. Since I now live in Texas, traveling to Nevada to look up this infromation is difficult. I also remember that the Whipple family had another neighboring ranch at the time they purchased Sunnyside.

I enjoyed your website. If there is a ghost at Sunnyside, it could well be my grandfather or his brother George. They loved that ranch so.
Thank-you for your time,

Helen Willis