Picher can be called "the town that Jack built." It was established in 1917, just after the United States declared war on Germany in World War I, When zinc was discovered in what is now Picher, the Germans had control of the zinc mines in Belgium. And the zinc boom was on in Picher, which, along with nearby Cardin, Okla., and Treece, Kansas, became the world's largest zinc mine. Picher had a population of over 25,000. After the war, people left Picher, leaving the town in a depression until World War II, when, again, Picher boomed since zinc became a war material. But after the war, people left the town, and in the 1970's, the last of the zinc mines shut down. Submitted by: Mike Garner
UPDATE: If Picher wasn't facing troubles already with the site and water conditions, the town was pretty much cleared out by a May, 10th 2008 Tornado. There is some but little left of the town and people are still trying to figure out what to do with the site and whats left. Word is the town could be completely deserted soon.
Great site, just thought Id update with something I knew.
Frank Merrick
UPDATE: The EPA had been actively buying out residences in Picher and Cardin since late 2007 when the USGS published a study of the mine chambers under the area that revealed approximately 85-90% of the structures were badly undermined by irresponsible mining and basically the whole town was at risk of collapse at any time. Before that, the EPA was aware of the severe lead contamination from the chat piles (huge mountains of discarded, toxic mine waste you can see on Google Maps) but had been trying to remediate the area without removing the residents, but the report was the final straw. There were indeed still about 1500 people living in the town by this point. There was a particularly large mine chamber under the Picher Jr/Sr High School football field, and quickly nobody was willing to risk sending their team to play in Picher. It became a huge liability issue for the kids and they voted to close the school and move the students to the Quapaw and Miami school districts in early 2008.

The real tragedy of the tornado was due to the terrible economic situation and the fact that the underground mines meant nobody in Picher has a basement (or a septic tank for that matter, they had to pump their waste into open lagoons). The houses were mostly substandard and old, the town had no operating tornado sirens, and nobody had below-ground shelter from a violent F4 tornado. The tornado didn't even hit the main part of town, just a small neighborhood to the southeast. It still destroyed every building it touched: 7 people died and more than 150 were injured. It did accelerate the flight of the residents because the state quickly said they wouldn't pay for anybody to rebuild, just to leave. Almost everybody agreed to sell their houses and move. With nobody left to sell to, all of the remaining businesses in Picher quickly followed suit.

As of December 2010, Picher OK has exactly 8 remaining hardcore holdouts, all of which were born in Picher and evidently plan to die there. They vehemently deny the town is toxic, accuse the government of conspiring to steal their property for some nefarious purpose and refuse to leave. But many of the abandoned houses have been demolished with more being bulldozed every day. There are no operating businesses; the post office was the last and it was officially closed in late 2008 when the last of the residents left. - John Finn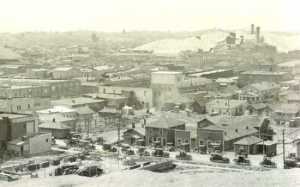 Picher in the 1920's
Courtesy Steven McGinty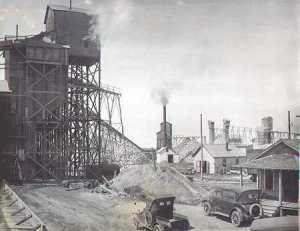 Lucky Syndicate Mine, 1923
Courtesy Steven McGinty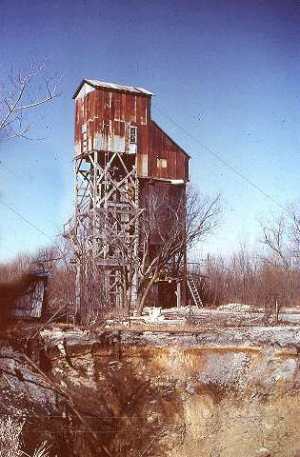 Abandoned Ritz Mine derrick (notice the large caved-in sink hole next to it.)
Courteys Steven McGinty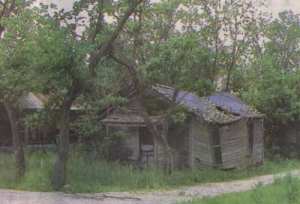 Abandoned Miner Shack
Courtesy Steven McGinty

Picher Mining Equipment
Courtesy Steven McGinty

The entire area of Picher and Cardin is surrounded by chat piles. (Chat is a gravel waste material from the mining days.)
Courtesy Steven McGinty

The Miner's Cafe was a nice place for miners to grab a quick bite to eat. But today, it's no more.
Courtesy Steven McGinty

The Picher Mining Museum is worth a visit.
Courtesy Steven McGinty

This Abandoned baseball field no longer hosts any games
Courtesy Steven McGinty