Wendover, Utah was the location of Wendover Air Base starting in 1940. The military acquired almost 3.5 million acres for a bombing and gunnery range. B-17, B-24 and finally the atomic mission B-29 aircraft trained at Wendover Air Base. There were 17,000 military and 2,500 civilians at its peak in 1943/44.
The base was used infrequently as a training site for military aircraft and national guard units until 1977 when it was turned over to Wendover City. The city turned the airfield over to Tooele County in 1998 and it has been undergoing a renovation which started in about 2002.
Travelers can visit a museum and take a driving tour around some of the old buildings, but it is still an active airfield so excursions onto the runways are not allowed. Tours can be arranged through the airfield office.
Submitted by James S. Petersen
Director, Wendover Airfield and
President, Historic Wendover Airfield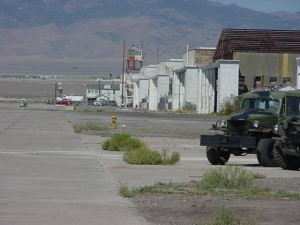 Wendover
Courtesy J. Shane Cloward

Dead Cedar Tree Mine Entrance South of Wendover
Courtesy Bill Larson

Inside the Dead Cedar Tree Mine entrance. Closed for safty reasons
Courtesy Bill Larson

Looking Up - Dead Cedar Tree Mine
Courtesy Bill Larson

Three miners lived here
Courtesy Bill Larson

Three miners lived here
Courtesy Bill Larson

Two Grave marker are hid in the grass. There was no names that could be read
Courtesy Bill Larson

Two Grave marker are hid in the grass. There was no names that could be read
Courtesy Bill Larson

Dead Cedar Tree Mine entrance from the other side..
Courtesy Bill Larson