Campville, founded by the Camp Family, was a community surrounding a huge brick manufacturing plant owned by the Camps. The area,the oldest in Alachua County, was originally settled around 1850 but the main town of Campville was probably around 1889. The town stretching along the railroad "sported" a brick sidewalk along where the Post Office, General Store, and Train Depot used to stand. Nearby was a Turpentine Still operation. The bricks can still be found today. The Brick Plant is at the end of the road on hunting land. You will need to walk about 100 yards down an old road to the clearing where it once stood. It has been recently demolished with bricks strewn everywhere. Part of the old clay pit for the plant can also be seen. There also was a definite white and negro section to the town with the black section across CR 1474 to the South. Some "cracker" residences can be found across US 301 along with another old church The Damascus Church circa 1902. The brick making operation eventually moved to Gainesville and the towns people died or moved on. Submitted by: Mike Woodfin
Not really a correction so much as a little extra information. I currently live in Oregon, but was born in Gerogia and raised in Georgia and Florida. While I have never visited Campville (I definitely plan to on my next visit thanks to your web site), I do have some infomation. Apparently my great-grandmother, as a teenager, along with her mother, my 2nd great grandmother, visited Campville, Florida in the 1870-1880s. They were from Alabama and it seems that while visiting, my great grandmother met a young man (apparently from either Alabama or North Carolina) and after my great grandmother returned to Alabama, they corresponded for some time. I have several letters, written by John Unknown. Your web site says that the town of Campville was proably settled in about 1889. However, the earliest of my letters was postmarked Campville, Fla. 1884. The postmark does not contain the exact date, however, the letter inside is dated May 15 , 1884. The return address is:
R.J. Camp & Bros., Manufactureres of Brick and Lumber and Dealers in General Merchandize, Campville, Fla. Names at the top include R. J. (presumable Robert Justin) Camp; J. S. (presumably John Stafford) Camp, and B. F. (presumably Benjamin Franklin) Camp. These were three of the Camp brothers. All the Camp siblings were born in Virginia and I do not know how many relocated to Florida and were involved with the brick and lumber business.
Sincerely, Art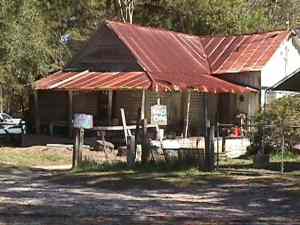 "Cracker" Home
Courtesy Mike Woodfin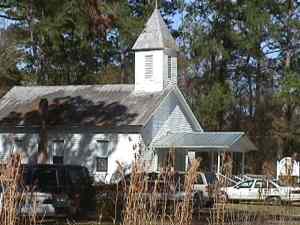 Hope Fellowship Church circa: 1899
Courtesy Mike Woodfin

"Cracker" Home
Courtesy Mike Woodfin

"Cracker" Home
Courtesy Mike Woodfin

Brick Plant Site Today
Courtesy Mike Woodfin

Plant Family Homestead
Courtesy Mike Woodfin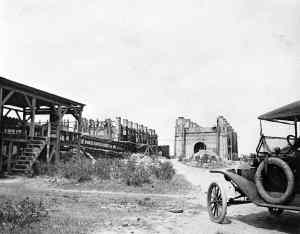 Original picture of the Campville Brick Plant
( courtesy of the Florida State Archieves )

Damascus Baptist Church circa: 1902
Courtesy Mike Woodfin