Waialee was more than a community in 1906 but a town surrounding the Boy's Industrial School. This school was a reform school for 106 mainly Hawaiian boys convicted of such things from Disobediance of Parents to Assault and Battery. The school was self sufficient with pineapple and taro fields. Later a girls school was added. The first postmaster happened to be the superintendant of the school T.H. Gibson. The schools name was changed in 1930 to the Waialee Training School and possibly ceased to exist in 1935. It is now partially owned by the state. One of the main buildings lies in ruin on the property of what is now the Crawford Convalescent Home. The basic complex is still there with some other foundations in the brush nearby. The flag pole in the center of the 1906 picture is still there on the grounds of the convalescent home. Submitted by: Mike Woodfin
At its peak, it was a town of some 250. By the way, there were no walls or barbwire that kept one in. The boys raised cattle, pigs, had a veg farm, poi factory and supplied other institutions of the Terr on Oahu. I lived there from 1939-1947 when the Terr Gov't decided to move the boys over to the windward side next to the girls school. My dad was the head of the sports dept. Why, so the boys and girls can get together and the buildings at Waialae were too old?? Funny, the State later used some of the building for old people???? Stafford-Ames Morse
Info on the school 1945

There was a livestock farm, carpentry and woodwork, veg gardens, taro production, machine shop and a tailor shop. They produced not only for themselves at the institution but for others like the OP (Oahu Penitentiary ) and "crazy house" , hogs beef and taro.The inmates population was about 200 boys from ages 12-18. Most were committed for the offenses of burglary and delinquency.
Cattle was 106 count, piggery was 511, 1 buffalo, chicks and ducks 2,221, and they produced 22,209 pounds of poi.

I can get the 1930 info on the staff numbers when I go back to work at the National Archives next month.

My dad , G. Richard Morse was the Athletic Director from 1939 to around 1947 when the school was moved to windward Oahu near the Girls School in Olomana outside of Kailua town.
Here is the list of staff at Waialee in 1940, the census just out.
Aoki, Bakman, Bell, Benhamer, Blake, Bray, Bright, Cummings, Currie, Fronk, Hao, Hoapili, Johnson, Kelikipi, Kido, Lae, Lim, Makaiau, Monte, Morse, o"Conner, Pukahi, Renei, Robinson, Stephens, Van Poole, Vgrin, Waltmen.


Stafford-Ames Morse

1906 picture of entire school complex
Courtesy Mike Woodfin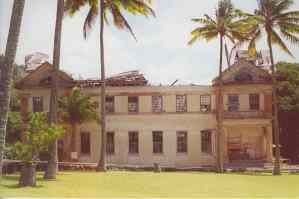 Ruins of the Boy's Industrial School Built 1913
Courtesy Mike Woodfin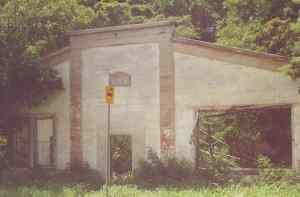 Building with Band Room front, the jail was in the middle and the back end was the Poi Factory
Mike Woodfin

Dining Hall
Courtesy Stafford-Ames Morse

Waialee Training School - Infirmery
Courtesy Stafford-Ames Morse

Piggery
Courtesy Stafford-Ames Morse

Carpenter Shop
Courtesy Stafford-Ames Morse

Waialee, Oahu Beach, Looking West
Courtesy Stafford-Ames Morse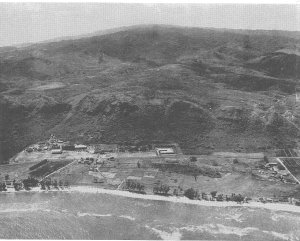 Waialee in the 1930s
Courtesy Stafford-Ames Morse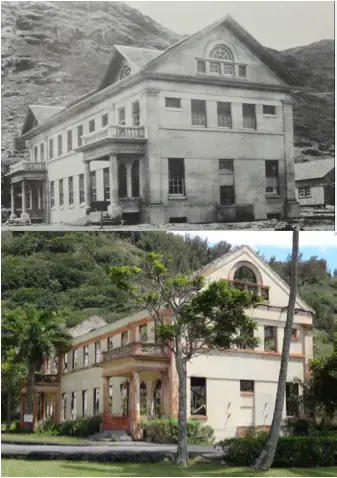 Waialee Dorm before and after
Courtesy Stafford-Ames Morse