The post office was established at the town of Fairview 9-27-1882. It was discontinued 9-13-1878. Fairview at one time had over 100 buildings. Most were destroyed in a fire in October 1875. Fairview served the needs of the mines on War Eagle Mountain including the Orofino, Mahogany, Poorman, Golden Chariot and Ida Elmore. There is a miners union cemetery near the Orofino Mine. There are only 2 or 3 marked graves in the cemetery. Most mines on War Eagle Mountain closed when the Bank of california failed in the fall of 1875 as most of the financing for operations came from the sale of stock in California.
Submitted by: Sharon A. Murray
This is a miner's union cemetery that was started in 1873 and was used until 1886.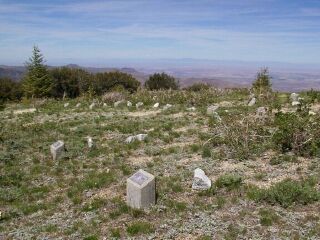 Fairview Cemetery
Courtesy Brandon R. Frasier

Fairview Cemetery
Courtesy Brandon R. Frasier