Not many mining towns can boast gold and silver production of $250,000,000 but Tonopah can. As was the case with many mining towns, the discovery of gold at Tonopah was quite by accident. It is said a prospector by the name of James Butler was tracking down his mules that were missing. After tracking them down, he picked up a rock to throw at them but did not for he noticed the rock was flecked with something that looked like gold. Indeed, it was. Credit is given to Mrs. Butler who staked out the claim and got things going. She named the mine Mizpah that turned out to be one of the richest producers in the area. Tonopah's peak period was around 1905 when it became the county seat. Like so many before it, the good times were not to last. Production began to decline noticeably about 1913 and the glory days were a thing of the past. However, Tonopah today is far from being a ghost town. Hotels, clubs, stores and restaurants are there for the comfort of the town's visitors. Tonopah is at the point where highway 95 intersects highway 6.Submitted by Henry Chenoweth.
By 1906, Tonopah had gone through the initial boomtown phase and had assumed the appearance of a substantial and permanent town with stone buildings and sturdy frame houses. A two-story dancehall, the Big Casino, stood on lower Main Street. Tonopah was a "civilized" and orderly town where people were not afraid to go out at night alone. The town had its red light district as well as its uptown ladies who considered themselves pillars of society and despised their less fortunate sisters. However, whenever the hat was passed to help some destitute miner's family, the girls' contributions exceeded those of the "respectable" ladies of the town. By the 1920s, Tonopah was a fashioned-minded town but it never outgrew its beginning.
One of the richest booms in the West occurred at Tonopah Springs on May 19, 1900. And the name Jim Butler will forever be associated with the name Tonopah and the many stories that surround the discovery. News of the discovery traveled to the Klondike and soon scores of eager prospectors were searching the area. But it was not until August 27, 1900 that Butler and his wife filed on eight claims near the springs six of which were some of the biggest producers the state has ever had. Because the Butler claims were known far and wide, the town was often referred to as " Butler." By the summer of 1901, the mines around the town produced nearly $750,000 worth of gold and silver. Now it was time for a post office and one opened on April 10, 1901 named Butler. It was not until March 3, 1905 that its name changed to Tonopah. Butler now had a population of 650 and was increasing every day. It also had six saloons, restaurants, assay offices, lodging houses, and a number of doctors and lawyers. By 1907, Tonopah had become a full-fledged city with modern hotels, electric and water companies, five banks, schools, and hundreds of other buildings. Tonopah's mines continued to produce extremely well until the Depression brought a slowdown. From 1900 to 1921, they produced ore worth almost $121 million. Tonopah's biggest year was 1913 when its mines yielded almost $10 million worth of gold, silver, copper, and lead. By the time World War II started, only four major mining companies were operating in Tonopah. At the end of the war even the companies that had been there at the beginning were gone. As of now, the value of the Tonopah district's total production is just over $150 million. Tonopah is still vibrant. Tourism now plays a large part in the local economy and is an excellent home base for anyone visiting ghost towns in Nye County.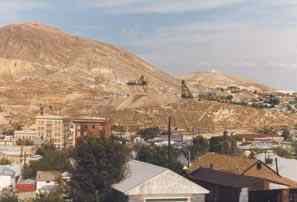 Tonopah
Courtesy Dolores Steele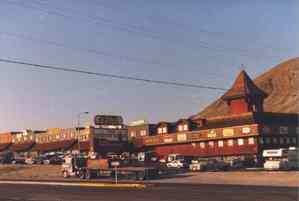 Tonopah
Courtesy Dolores Steele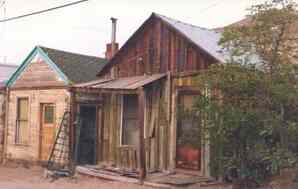 Tonopah
Courtesy Dolores Steele

Old Mizpah Hotel -- 1907
Courtesy Dolores Steele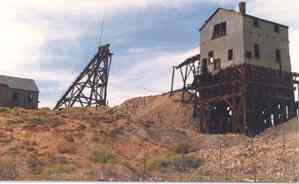 Silver Top Mine
Courtesy Dolores Steele

Tonopah 1940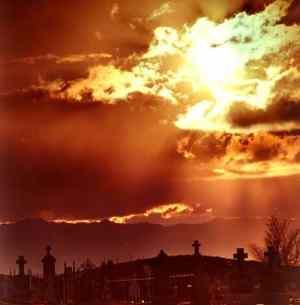 Tonopah
Copyright: The Aurora Gallery/Wes Shrader Photography

Tonapha Courtesy Stanley Paher.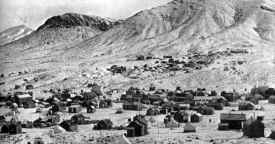 Courtesy Stanley Paher.

Bar in Mizpah Hotel
Courtesy Dolores Steele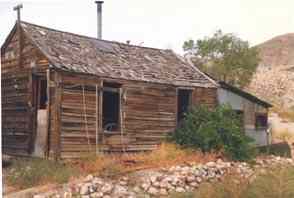 Tonopah
Courtesy Dolores Steele

Tonopah
Courtesy Dolores Steele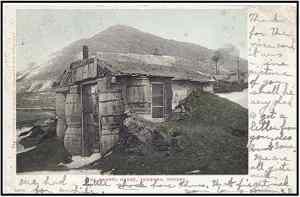 Tonopah barrel house. Postcard postmarked Los Angeles, California, April 28, 1906. Writer of postcard mentions being frightened by an earthquake. Postmark is 10 days after the massive San Francisco earthquake of April 18, 1906.
David A. Wright collection.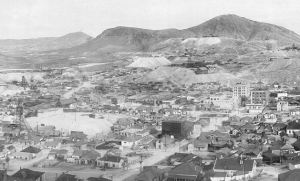 Tonopah Nevada
Courtesy David Johnson