Last person to live in Freytown was about 1950. The town was to be flooded by the local reservoir and then wasn't due to a cemetery in the vicinity. Not much is known about the town, I have contacted some residents and older family members and will have to add more info later. Submitted by: Danielle N. Shaffer
From :G. Elllis Miller from the North Pocono Library.
Buildings included in the town were: a dozen or so houses, a church, a graveyard, a couple of sawmills, a brush block factory, a lumber camp, a post office, Norman English's brickyard and a schoolhouse.
The town came into existence in 1830 when John and Susanna Frey came from Monroe County, PA to start a farm in the wilderness. By 1900, several families lived here, such as the Sayers, Leaders, Stalbirds, Ames, Bakers, Haines, Shafers and the Walls.
By 1909 one family remained, Charles H. Schreck and his wife Rosie.
Mr. Schreck died on March 17, 1953 and Rosie became "mayor of Freytown".
Rosie was born in Hamlin, PA on April 18, 1877. She was the daughter of Ralph Ames (1847 – 1917) and his wife Mary (Jones) Ames (1857 – 1925). In 1881 the family moved to Gas Hollow, near Jericho, Wayne County, to work for the Winters and Ball Manufacturing Company, who built a factory and sawmill.
In 1882, a road was built from Freytown Corners down a steep hill into Gas Hollow to connect with the Jericho Road.
On January 27, 1883 the first wagon passed over this road to take equipment to the Winters and Ball factory. At this time there was several houses and a store at Gas Hollow to accommodate the mill laborers. The mill was eventually destroyed by fire and other buildings disappeared and the road washed out beyond repair by a hurricane some years later. The road is now closed at Freytown Corners.
Charles H. Schreck, native of Freytown, worked for Winters and Ball in 1885 and started construction of his home at the same time. His home was completed in March of 1898. On March 28, 1900 he married Miss Laura Rosanna Ames (Rosie) and set up at the new home. After the fire destroyed the mill in Gas Hollow, he became a farmer. He was well known in Moscow and Gouldsboro where he sold butter Rosie churned, weighed and wrapped.
Freytown was wiped off county maps by the sale of lands to the Scranton Gas and Water Company.
Most of the farmers moved to Moscow, Elmhurst, Madisonville and Hollisterville.
Rosie died on February 13, 1968 and her home was torn down and replaced by the home of William Bentler.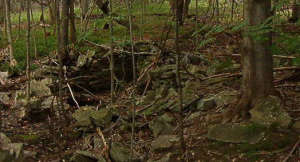 Foundation #1, found near entrance into Freytown
Courtesy Danielle Shaffer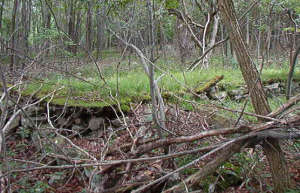 Foundation #2, near back of lot
Courtesy Danielle Shaffer

Road into Freytown
Courtesy Danielle Shaffer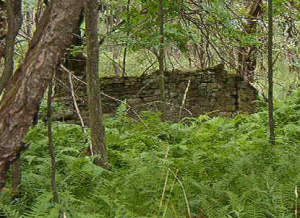 Foundation #3
Courtesy Danielle Shaffer

Metal rope found near foundations
Courtesy Danielle Shaffer