Cascade is sometimes called Cascade Springs and is in Alabough Canyon about 8 miles south of Hot Springs on SD 87. It was founded in 1888 as a resort town. A warm mineral spring gushing out 2,000 gallons of warm water a minute was to be the invitation to attract visitors to the resort town. A four story, hundred-room hotel was built. 36 city blocks were laid out and partially developed. It was thought the Burlington & Missouri River Railroad would go through Cascade on its way to Hot Springs. It probably would have had developers not held up the railroad for high right-of-way prices which forced the railroad to seek another route, which it did. Cascade then gradually began to decline and by 1900 only a post office and 25 people remained. A visit to Cascade is worthwhile. Submitted by Henry Chenoweth.
UPDATE:My son and I visited Cascade Springs this July 1999 and found only two buildings left. The bank building, which is a residence and the banker's home still standing. All other buildings are gone. The picture of the Mayors residence was identified, by the owner, as the original bank of Cascade Springs. The hotel once there was torn down and the stones were used to build the Sister's Hospital and a Catholic Church in Hot Springs. Both have since been torn down. The blocks are still stored and have been used in part of the construction of a Motel in Hot Springs as a decoration. Most of the stones are stored in piles at Hot Springs. Submitted by Mike and Aaron Woodfin
The sandstone bank in Cascade was built as such and was never a "mayors residence" this may have been said as a joke by the occupant as it is the only remaining stucture in Cascade. It sat delapidated until the current owner bought it and fixed it up in the late 70's. They tore down multiple woodframe buildings that were beyond repair for public safety reasons( The bank is 30ft from highway 71, lots of traffic/tourists) The wooden home in the site pictures was the actual bankers home, and sits some distance to the north, away from downtown Cascade, still standing. They are the only original structures that remain. Submitted by Matt Rankin.

Cascade Town Marker
Courtesy Mike and Bob Stelow

Cascade Mayors Residence - Once the original bank of Cascade Springs
Courtesy Mike and Bob Stelow

Cascade (Southside)
Courtesy Mike and Bob Stelow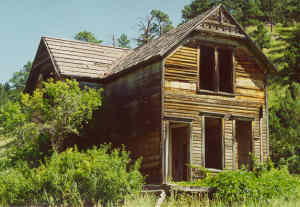 Bankers Residence at Cascade Springs
Courtesy Mike and Aaron Woodfin

Lone Building
Courtesy Don Morgan