The town had its beginning about 1888 as a siding on the railroad in Dallam County. At that time, the town was known as Farewell. In 1905, the railroad was asked to change the name to Perico and the railroad complied. At the time, much of the ranch land in Dallam County was being sub-divided and sold to farmers for agricultural purposes. As agriculture boomed, towns were settled to serve the farmers and Perico was one of those towns. When farmers began entering the territory early in the 1900s, Perico prospered and became the educational center in the vicinity. It was not unusual for small rural towns to suffer as improved highway transportation drew trade to more populous towns. Perico was no exception. Although the town had about forty residents as late as the 1960s, it is today a ghost town with almost all its buildings vacant or in ruins. The town lies alongside the Fort Worth and Denver tracks on U.S. Highway 87 about 11 miles southeast of Texline. SUBMITTED BY: Henry Chenoweth
For many years Althea Timmermann Fox lived with me. She died at age 89 in 2000. Her mother and father moved to Perico around 1920 and established the Perico General Mercantile beside the railroad. They were also the agent for the John Deere Tractor Co. They supplied groceries to the small population there and were prominent members of the community.
"Tim" Timmerman moved his family there from Denver. He had tubercolosis and moved from St. Louis to Denver till he was cured and then to Perico where he knew a few other people. Althea, her two sisters, and mother ran the store along with Tim until his untimely death in about 1937. They kept their cured meat high up at the top of the windmill. He climbed to get some meat and fell and punctured a lung and died. It was in the throws of the Great Depression. Most of the members of that community had "tabs" at the store. With the enormous debts on their books and the inability of the debtors to pay, the business folded around 1940, and the family left the town.
Althea told me in its heyday, Perico was booming. Many people stopped for gasoline, and she pumped gas into vintage Packards, Whippets, Nashes, Oaklands, etc. And she would hoist 100-pound bags of potatoes out of the cellar as well as giant bags of sugar and flour, as that's how people bought in those days. I am fortunate to have the many memories of her stories about Perico.
Sincerely,
Eddie Maddox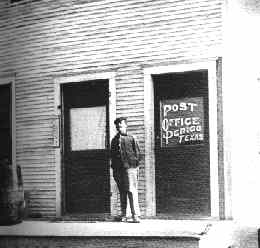 Perico post office
Courtesy Panhandle-Plains Historical Museum, Canyon, Texas