From Fayette County, Her History and Her People by F. Lotto, 1902:

West Point lies on the Missouri, Kansas and Texas Railroad and the Waco branch of the San Antonio and Aransas Pass Railway, about twelve miles from La Grange. The section from which West Point draws its main trade is the rich fertile Colorado bottom, deep alluvial soil. The town consists of three stores, one drug store, two physicians, three hotels, two blacksmith shops, two cotton gins, one molasses press owned by Mr. House who turns out a superior molasses known over the county, and one cannery. The latter is owned by a stock company of enterprising citizens and was completed this year at a cost of $6500. The rich surrounding country has various kinds of soil, mostly rich loam beds. It is very favorable to the raising of fruits and vegetables. West Point deserves the credit of starting the industry which (the conditions warrant the belief) promises to become a success. Other sections of the county may follow the example set, quite increasing thereby the income of the farmer and making him independent of the staple article, cotton.

S. A. Shelburne, a native of Austin County, has been for the last nine years in the general merchandise business at West Point and is the leading merchant of that place. F. J. Johnson is the postmaster at West Point, a druggist and a grocer. Mr. Shelburne is a leading democrat and Mr. Johnson a leading republican. O. L. Lee is the proprietor of a first class saloon and keeps the purest and best brands of whiskies. Dr. M. E. Clary is a resident physician of West Point. He has practiced there since 1891, is a fine physician and is regarded as such by the people and by his colleagues.
There are two churches in West Point, a Baptist Church, Rev. W. M. Daniels, pastor, and a Methodist Church, Rev. J. J. Calloway, pastor.

The first settlers in the West Point settlement arrived about the year 1840. The town is located on land that formerly belonged to Bill Young. It is a post office since 1872. The population is American with a few Germans among them. Prominent settlers: J. Darby, C. W. Moore, J. L. House, A. W. Young (deceased), T. C. Moore (deceased), W. A. Young (deceased), J. H. Baker, Seth Green, F. J. Johnson and others.
Submitted by: William Wessels

West Point
Courtesy William Wessels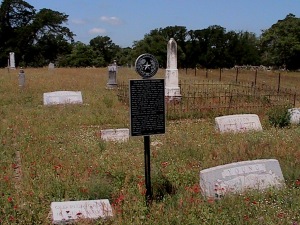 West Point
Courtesy William Wessels

West Point Post Office
Courtesy William Wessels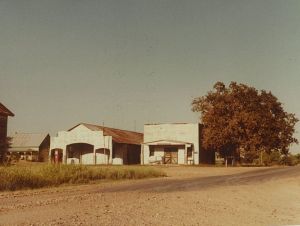 West Point Garage
Courtesy William Wessels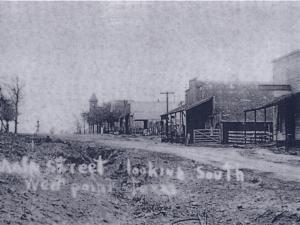 West Point Main Street 1909
Courtesy William Wessels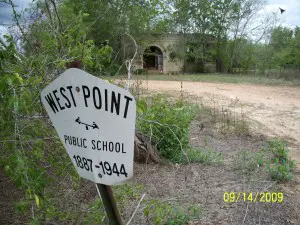 West Point School
Courtesy William Wessels

West Point Wessels Auto Dealership
Courtesy William Wessels

West Point
Courtesy William Wessels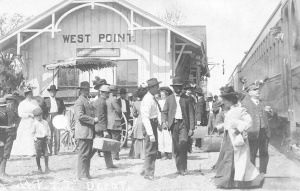 West Point Train Station
Courtesy William Wessels

West Point Drug Store Today
Courtesy William Wessels

West Point
Courtesy William Wessels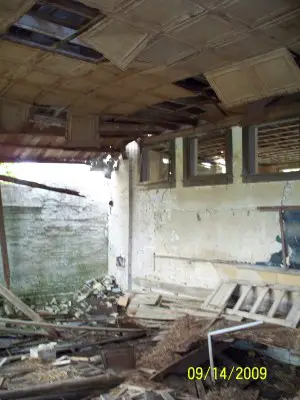 West Point
Courtesy William Wessels